3 Best Ski Resorts In Pakistan
Skiing is one of the most popular winter sports in the world.
A ski trip can be an exhilarating experience for any age group, whether you are a beginner or an experienced skier. However, with so many different destinations to choose from, it can be hard to find the best ski area for your preferences and abilities.
Whether you're searching for a large ski area or one with the most breathtaking views for your ski holiday, we've got you covered. Here are our top picks for Pakistan's largest and greatest ski areas. These most beautiful ski destinations aren't only excellent places to go snowboarding; they also provide a luxury experience off the slopes. We consider everything from après ski, on and off-piste skiing, lodging, dining options, Ice skating, and mountain vistas when selecting these resorts.
In this article, we will explore some of the best ski resorts in Pakistan.
Three best ski resorts in Pakistan:
The Malam Jabba Ski Resort in Pakistan is the best ski resort to ski in with two slopes. Enjoy skiing on your next ski holiday at one of the most luxurious ski resorts in the world.

The Naltar Ski Resort in Gilgit-Baltistan is one of the most picturesque ski resorts in the world, and for good reason – it has everything you could want in a ski resort.
Rattu Ski Resort in Astore Northern Pakistan is another great option. Demonstrate your skills on stunning ski slopes
Malam Jabba Ski Resort
Malam Jabba ski resort is a popular tourist destination in the Swat Valley, Pakistan. It offers skiing opportunities for tourists from around the world. Since it opened in 1962, Malam Jabba has been an important symbol of Pakistani tourism and economic development. The Pakistan Tourism Development Corporation operates Malam Jabba resort.
The area attracts visitors in thousands annually who come to enjoy its spectacular views and excellent facilities. Its slopes are both challenging and perfect for beginners as well as experts with a long enough season to keep them busy well into February each year.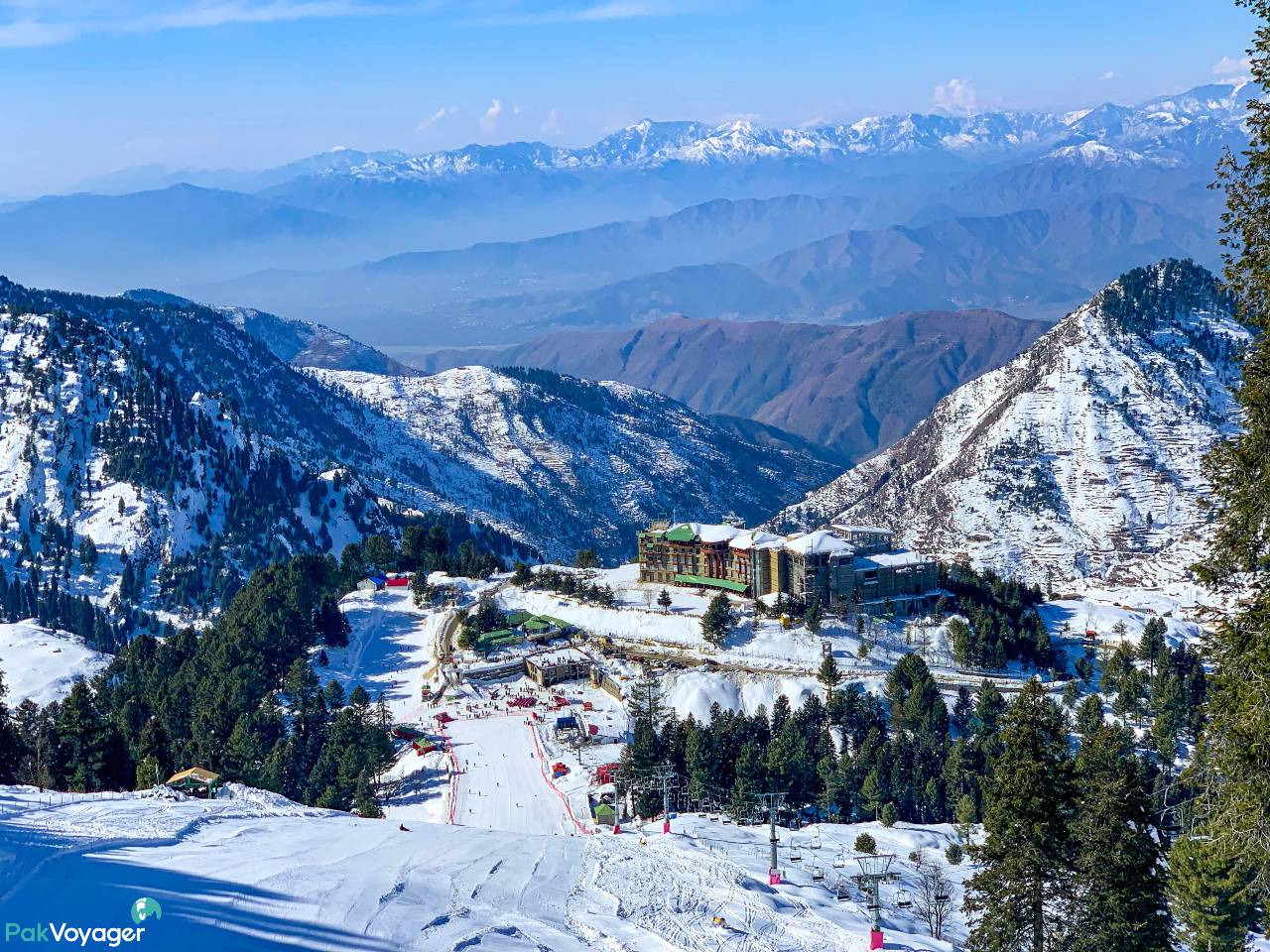 Where is Malam Jabba?
One of the most beautiful ski resorts in the world. Malam Jabba is nestled by the Hindu Kush range with picturesque alpine panoramas. It is located in the beautiful Swat Valley Northren Pakistan, is home to Alpine hills and mesmerizing panoramas. It lies 9000ft above sea level and serves as summer as well as a winter getaway.
Skiing at Malam Jabba Ski Resort
Malam Jabba became a popular tourist destination after Pakistan Tourism Development Corporation (PTDC) built a chairlift from the bottom of the resort site to Top of the hill and opened 2 slopes of 800m for skiing with a trained instructor. Malam Jabba ski resort provides some spectacular views of Alpine Ski trails on ski lifts. The base elevation of the Chairlift is 2,469m. There is now an Ice skating Rink as well as a snowboarding area besides skiing terrains.
Slalom Skiing
Slalom skiing is a type of skiing where the skier makes turns between poles or gates. These gates are set up in a course, and the skier must pass through them in the correct order and direction. Slalom skiing is one of the three disciplines of Alpine Skiing, along with Giant Slalom and Super-G/Super Giant Slalom.
One of the world class ski resorts in Pakistan Malam Jabba Ski resort in Khyber Pakhtunkhwa is home to several outstanding Slalom skiing slopes for expert skiers. Annually, Malam Jabba holds competitions for athletes from all over the world to demonstrate their expertise in the field. Skiers will enjoy the downhill runs, which are unrivaled in terms of intensity. Serious skiers may find the vertical slopes difficult.
The ski resort has many different trails for all skill levels including piste and off piste runs. This ensures that everyone can have a good time and enjoy themselves while being challenged by their favorite trail every once in a while too.
In addition to skiing, visitors may go snowboarding and Ice skating, as well as zip-lining. Novices may take lessons from the ski instructor deployed on-site. Ski gear and other equipment are easily accessible at the resort.
Accommodation at Malam Jabba
Plan a budget skiing adventure with friends and family on this ski holiday. The venue offers both luxury and budget accommodations with contemporary infrastructure equipped with modern amenities for travelers. There are also restaurants nearby where people can enjoy fine dining as well as budget food depending on what they want to eat. Do not forget to feast on scrumptious Pakistani cuisine.
Features that make Malam Jabba Ski resort great
The area features Skilifts, hiking trails, off-piste Skiing, and Ski area. The spectacular alpine village views attract tourists who come to enjoy the scenery in winter. The resort offers skiing from December to April.
· Two 800 meter ski runs
The skiable terrain has two 800 meter Ski runs to accommodate multiple Ski events simultaneously.
· 4 chairlifts
These chairlifts are operational to facilitate skiers as well as tourists. The length of the Chairlift is 1.5m.
· Ice skating rink
Ice skating is also available apart from excellent skiing terrain, which has been inaugurated recently. A new Ice rink that was just opened this season serves as a local venue for youth hockey and figure skating competitions.
· Five-star hotel & three-star hotel
The resort has world-class hotels and restaurants to facilitate national and international athletes and tourists round the year. Budget and luxury hotels can be availed with ease.
· Zip-lining
Apart from skiing and ice skating, Malam Jabba has recently installed a zip line to entertain travelers. it is the highest in Pakistan with 1000ft elevation.
· Sagar hiking trail
Hiking enthusiasts can embark on a hiking adventure on the Sagar hiking trail while enjoying the picturesque alpine hills.
. Sagar Loop trekking trail
Yet another major attraction for adventurers, Sagar loop trekking will challenge your stamina while hypnotizing travelers with its beauty.
How To Reach Malam Jabba?
On arrival at Islamabad International Airport, the Swat Expressway will transport you to Swat Valley, where Malam Jabba is located. The distance between Islamabad and Swat is 247 kilometers, which takes around 4 hours to travel. However, as a result of the recently built Swat expressway, this distance will be significantly reduced. The beginning point is at Col Sher khan Interchange on M1 Motorway-Islamabad, which reduces the journey time to just 50 minutes.
Ski events at Malam Jabba
MALAM JABBA WINTER SPORTS FESTIVAL

CAS INTERNATIONAL KARAKORAM ALPINE SKI CUP

MALAM JABBA ALPINE SKI CUP

SNOWBOARDING

ICE SKATING
Naltar Ski Resort
Get ready to be hypnotized by the unparalleled beauty of the Naltar Valley ski resort. Situated at an elevation of 9,680 ft in the Gilgit-Baltistan region of Pakistan the valley is paradisical in its beauty. This spectacular resort has mesmerizing alpine meadows is nestled among giant snow-covered Karakorum mountains ideal for Skiing.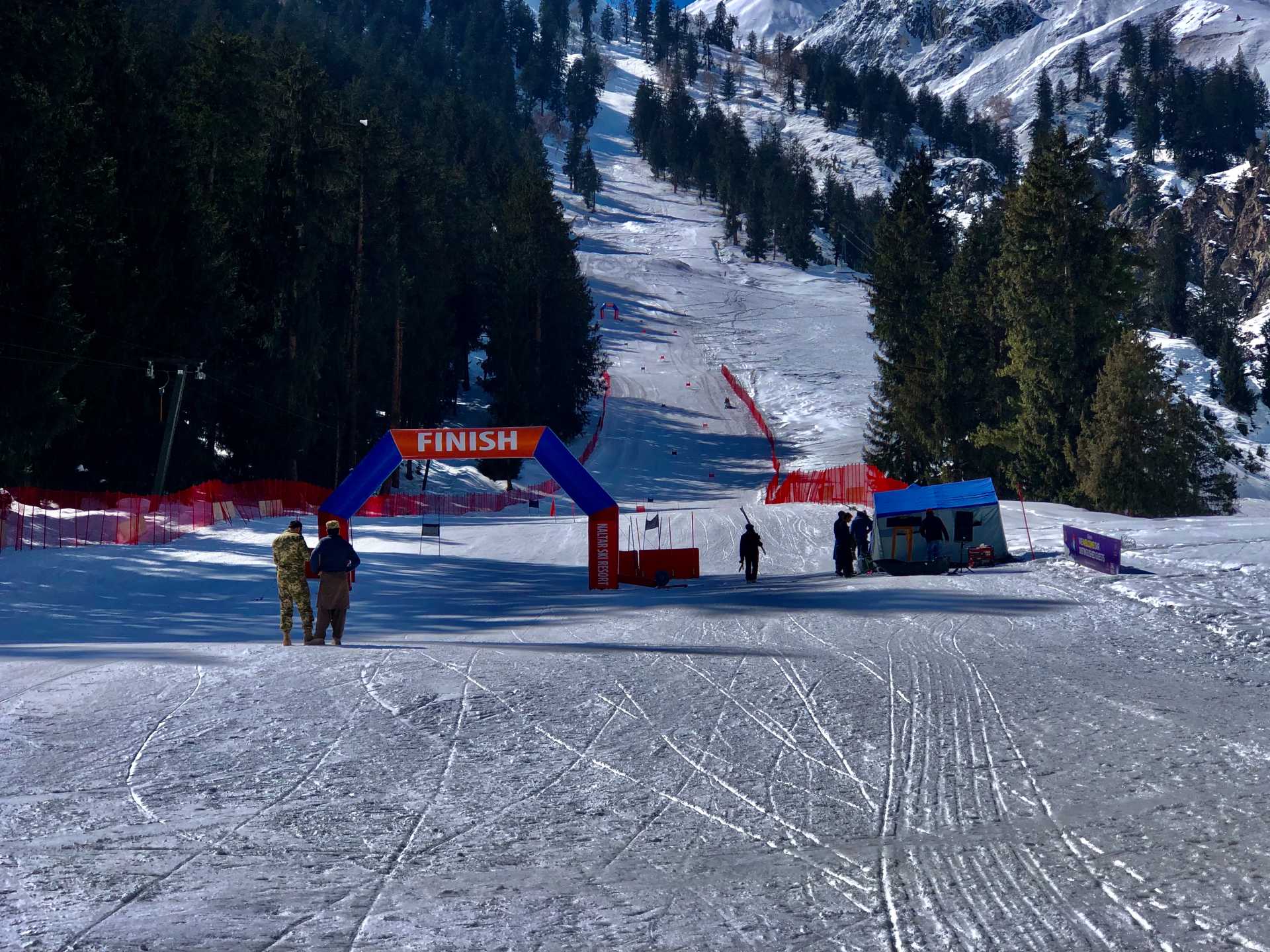 Where is Naltar Valley?
Naltar Valley is located in Gilgit Baltistan, Pakistan. It is snuggled by the mighty Karakoram Range. Naltar is very picturesque; with its lush green valley dotted with streams and small villages providing a stunning backdrop for skiing.
Naltar has lots of beautiful natural attractions like Blue Lake, Strangi Lake, Bodlok Lake, which make it one of the most popular tourist destinations in Pakistan.
Cross Country Skiing
Cross-country skiing (XC skiing) is a great way to explore the winter landscape. Naltar Valley in Gilgit-Baltistan is one of the most picturesque and serene places for cross-country skiing in Pakistan. The valley offers pristine snow-capped peaks, green meadows, and rushing rivers, all against a backdrop of the Karakoram.
Cross-country skiing has grown in popularity over time because of its accessibility. More importantly, cross-country skiing is one of the most environmentally friendly winter activities because you are never on groomed trails, but instead are constantly zigzagging across natural snowfields where no one has ever skied before! This helps make sure that there will always be plenty of fresh
The Naltar Valley is Pakistan's first ski resort and among the best ski resorts in Pakistan. It rivals the swiss alps for its beauty and ski area and offers Alpine skiing, cross country, off piste, and piste trails for skiing enthusiasts. Terrifying yet thrilling, the vertical drops are awe-inspiring. Every year, skiers from all around the world congregate in the downhill skiing slopes to participate in slalom, big slalom, biathlon, and cross-country skiing competitions. Avid skiers from across the world visit annually to attempt their luck on the slopes.
The region's best winter sports destination has hosted international skiers from Greece, Afghanistan, Turkey, Ukraine, Hong Kong, the United Kingdom, Bosnia, Herzegovina Belgium, Morocco, Kyrgyzstan, Azerbaijan, and Tajikistan for FIS events over the years.
Two of Naltar's natives skied at the Olympics: Muhammad Abbass qualified for the Winter Games in 2021 held in Vancouver, Canada while participating in men's giant slalom. Muhammad Karim represented Pakistan at the Sochi Winter Olympics 2014 and participated in the men's giant slalom.
Features of Naltar Ski Resort
The area features cozy traditional chalets, hiking trails, and wildlife at Naltar Wildlife Sanctuary. The towering Mehrbani Peak at 5,638m stands guards behind Skiing terrain. The spectacular view of the Naltar mountains attracts tourists who come to enjoy the scenery both in summer and winter. The valley has the best backcountry terrains for skiing in Pakistan. Skiing in Naltar is also filled with traditional music and dance around a crackling bonfire.
The resort offers skiing from December to February.
Accommodation at Naltar Ski Resort
After a daylong skiing adventure one can rest at the adjacent luxury hotels and budge resorts that offer modern comforts. Experience the warmth and hospitality of the locals while enjoying local dance and music.
Snowboarding at Naltar Ski Resort
Besides providing the best ski experience, the resort is a pioneer to start Snowboarding, ice skating, and Ice hockey events. Annually these events are held separately for children and youth categories.
How to reach Naltar Valley
Naltar Valley may be accessed from Islamabad via the KKH, which stretches 1,300 kilometers from Pakistan's Punjab province to the Khunjerab Pass in Gilgit-Baltistan. The Naltar Valley is accessible from Islamabad by air via Gilgit Airport or road and takes about two hours to reach Naltar, which lies 54km west of Gilgit city.
Ski Events At Naltar Ski Resort
Over the years, Naltar Valley has attracted international and national ski competitions. Between December and February, these events are frequently held. The Avid skiers will be pleasantly surprised to discover that there are several ski races to participate in. The following is a list of some of the notable events.
1. SAADIA KHAN & CHILDREN SKI CUP
2. SNOWBOARDING CHAMPIONSHIP
3. CAS INTERNATIONAL KARAKORAM ALPINE SKI CUP
4. NALTAR CROSS COUNTRY & BIATHLON SKI CUP
5. CAS OPEN ( CHILDREN) SKI CUP
6. INTER BASE SKI CUP
Rattu Ski Resort
Explore the mesmerizing vistas of the valley with its top-notch skiing slopes this winter. The valley is the perfect winter getaway to find solitude in nature and to befriend adventure. Experience exhilarating cross-country trails in one of the remotest skiing resorts in Pakistan. Immerse in the unsullied beauty of Rattu and enjoy local hospitality.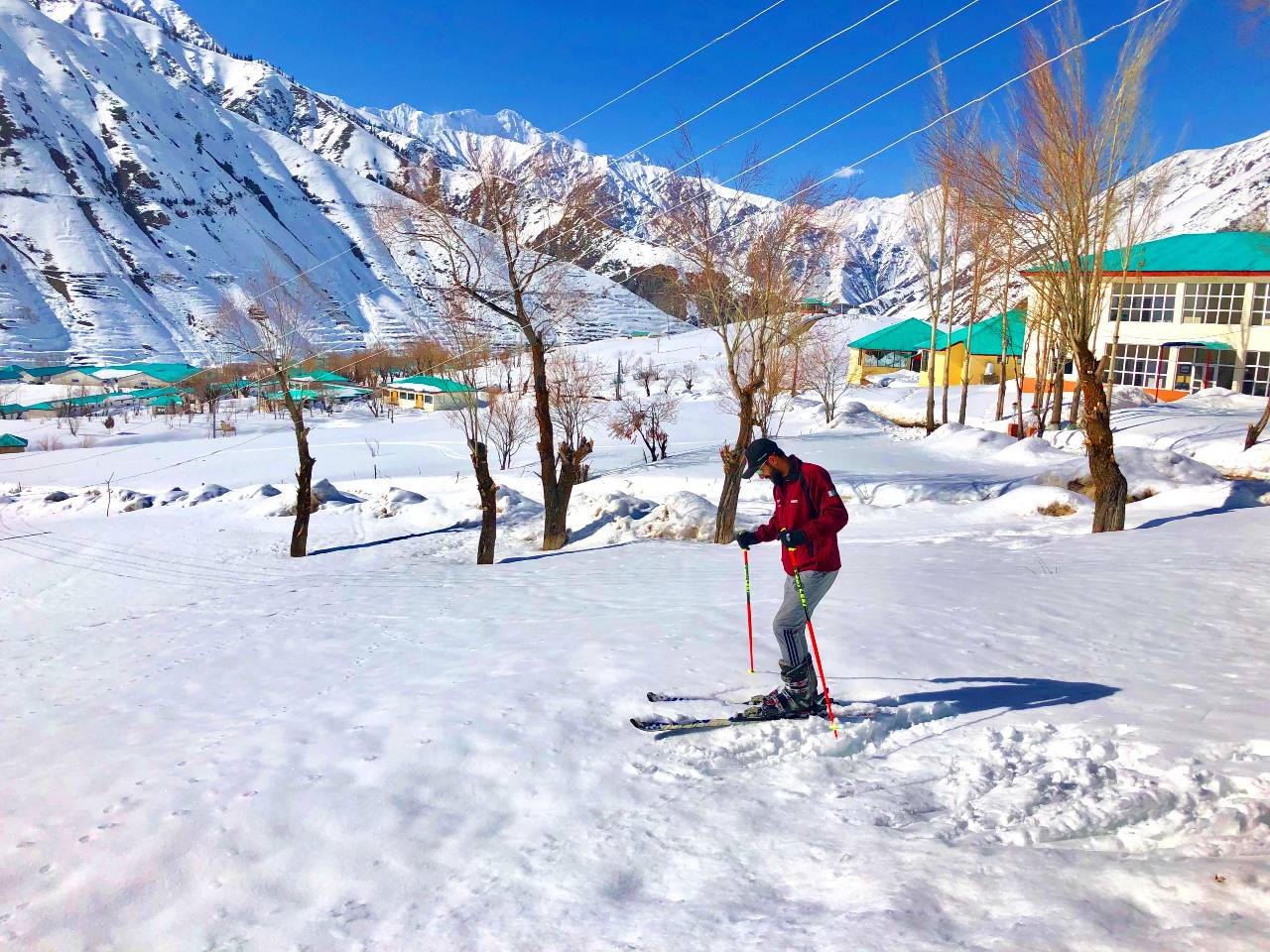 Where is Rattu Ski Resort?
The Rattu Skiing Resort is in Pakistan's Gilgit-Baltistan province. It's a beautiful mountain hamlet with stunning views of the Karakoram range and alpine forests. In the Astor district of Gilgit-Baltistan, Rattu is a remote hideaway at an elevation of 9000ft. It used to be a traders' route to Astore, Gilgit, and Kashmir. The terrain is bordered by Mir Malik River on one side and Kalapani River on the other. The Ski resort was built around 1987 to train troops on high altitude and mountain warfare including skiing.
Cross Country Skiing at Rattu
Cross country skiing is a sport that has been around for centuries. It is a great form of exercise, and it can be enjoyed by people of all ages. There are many different types of cross country skiing, and each one offers its own set of challenges and rewards. In order to get the most out of this sport, it is important to learn about the different types of cross country skiing and choose the one that is right for you.
One of the best ski resorts in Pakistan to experience different forms of skiing on world class skiable terrain. The snow-clad slopes of the valley have a vast and excellent ski area to accommodate athletes.
The ski terrain is adequate for both beginners and expert skiers. Avid Skiiers can enjoy Piste, off piste, cross country, and Alpine skiing. Ski gear and instructors are available on site. During the peak ski season, the resort is thronged by skiers from all over the world as well as Pakistan to compete in various Ski events.
The varied terrain features backcountry terrain as well as cross country runs, hiking trails, and snowboarding. Experience the thrill of skiing with Pak Voyager's budget custom tours.
Accommodation at Rattu
Accommodation is limited due to remoteness and requires pre-booking. Though rest houses are equipped with modern amenities.
How to Reach Rattu?
The most convenient way to get to Rattu is to fly into Gilgit or Skardu airport from Islamabad International Airport, then travel by road. Rattu is only 141.3 kilometers from Gilgit city and takes 5-6 hours to reach by car or bus.
To reach Rattu one may take the KKH. Travel from Islamabad to Chilas on a bus or a rental car. Hire a vehicle in Chilas and make the journey to Rattu by driving on a Jeepable Route. The trip from Chilas to Rattu takes roughly two hours.
Ski Events At Rattu
INTERNATIONAL FIS CROSS COUNTRY SKI CUP

NATIONAL CROSS COUNTRY SKI CUP
When you need a hand in planning your next skiing adventure, look no further than the experts at PakVoyager.com for all inclusive Pakitsan ski tour package. We've got everything from exploring Pakistan with an adventurous spirit to relaxing on its beautiful mountains and tasting some local delicious food – all packaged up into one easy-to-shop online store for travellers who are looking forward' to their next ski trip.