Authentic Traditional Hunza Food Restaurants in Hunza Valley
PakVoyager brings you the most authentic traditional Hunza food restaurants across Hunza Valley. The Hunza Valley is home to some of the most diverse and unique traditional cuisines in Pakistan. From savory wheat dishes to scrumptious healthy delicacies, there is something for everyone to enjoy! Our guide will help you find the best local traditional food restaurants in Hunza Valley that serve traditional Hunza cuisine prepared with fresh, natural, and organic ingredients.
The idea of a foodie's paradise is true in the Hunza Valley. The region has been recognized for its delicious cuisine, which can be attributed to its proximity to Central Asia-known for authentic flavors!
You'll experience this first-hand when you explore Pak Voyager's gastronomic journey through this scenic region with Hunza Valley Tours. So what are you waiting for? Start planning your culinary adventure today with PakVoyager! Read our article Hunza Valley authentic food to familiarize yourself with traditional Hunza food.
Bon Appetite!
Below is a list of the most popular Hunza food restaurants.
Hidden Paradise Hunza

Hunza food pavilion

Bozlanj Café

Kha Basi Café

Cafe Culture Hunza

Safina's Cafe

Taste of Hunza

Moksha Resorts
Hidden Paradise Hunza
The Hidden Paradise Hunza restaurant showcases all that Hunza's traditional food has to offer. The food at the Hidden Paradise Hunza Restaurant is an excellent example of traditional culture in action. The dishes are organic, pure, and self-catering with plenty to offer for every palate-both olden times or modern-day lifestyle!
Mr. Lutfi Ali the chef and owner of the restaurant started this business in 2000 and since then has been serving the best of Hunza's traditional food to locals as well as tourists.
Make your trip to Hunza even more memorable by savoring their exquisite and extensive selection of traditional cuisine. Stop by for a wholesome breakfast or a lunch. Hidden Paradise Hunza aspires to provide the ultimate local food experience where they not only get to witness Hunza's culture and aesthetic scenery firsthand but also be able to taste and appreciate the finest dishes only specific to our region.
Hidden Paradise Hunza View
The view from the Hidden Paradise Hunza in both Karimabad and Altit spots is one-of-a-kind. In Altit you can see all the way to the royal garden, with apricot trees surrounding you on every side! The dining arrangement is open space and exquisite. Build on a rock this deck structure provides spectacular views of the surroundings. Whereas in Karimabad you get to witness the hustle and bustle of the Karimabad bazaar as we as the sprawling Hunza Valley.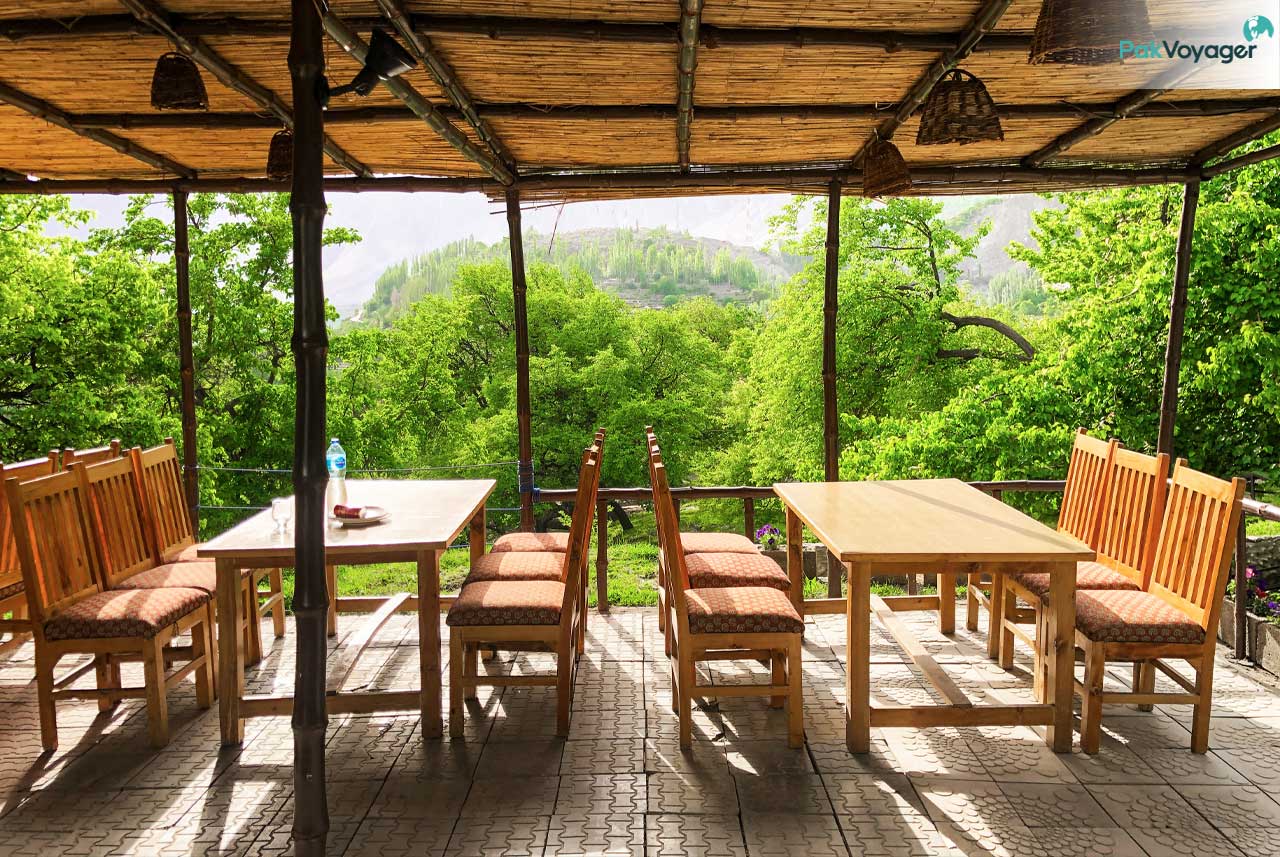 Hidden Paradise Hunza Menu
Hidden Paradise Hunza's traditional cuisine menu is as below.
Haneetze Berikutz

ChapShuro (both Veg/Non-Veg)

Molida

Hoi Lo Garma

Tzamik Potatoes

Harisa

Mutouk

Dang Diram

Mull

Homen-e-Dechirum

Sultan Qoq-Sweet dish-Dried fruits including dried Mulberries

Diram Phitti-Sweet dish
Hunza Food Pavilion
The Hunza Food Pavilion in Karimabad town is the best place to eat traditional food in Hunza. Juxtaposed at the steep path to 800 Baltit Fort, the restaurant is the ideal stopover to catch your breath, enjoy the scenic view and have some delicious food. The menu offers a variety of dishes made with local ingredients such as potatoes, Apricot oil, greens, and grains. The food here is simple but delicious and made with organic ingredients. The menu features local favorites such as Giyal, Hoi lo Garma, and Dawdo, as well as vegetarian options. Read our extensively compiled blog on Hunza Valley Traditional Food to familiarize yourself with Hunza cuisine.
The highlight of the Hunza Food Pavillion is the Chap Shuru-a Hunza street food, which is made with minced meat (beef/mutton/chicken) whole wheat flour, Apricot oil, and herbs. The bread is cooked in a searing pan and has a crispy crust and soft interior. It is served with Apricot oil or walnut oil and goes well with all the dishes on the menu.
Hunza Food Pavillion Menu
Barro Giyaling-Barley Flour Crepe

Shhikerkutz Hoi-Feenugreek stew

Supra & Harisa-Boiled Meat with boiled wheat grains

Chapsae Dawdo-Meat Soup with tagliatelle

Chamus-Dried Apricot Juice

Burut Shapik/Berikutz-Cottage cheese/Apricot nut paste sandwiched in flatbread
What makes Hunza Food Pavilion special
The food at Hunza Food Pavilion is delicious. The women who run it are very skilful, hospitable, and attentive, always making sure that their customers have everything they need.
The food is simple but delicious and made with organic ingredients. One of the most interesting outlets in the region Hunza Food Pavilion had female entrepreneurs running it.
Happy Eating!
Where is Hunza Food Pavilion
Hunza Food Pavilion is located on the cobbled path leading to the Baltit Fort in Karimabad Hunza Valley.
Bozlanj Cafe Gulmit
A hidden gem Bozlanj Cafe in Hunza is a traditional yet extraordinary restaurant run by two women who are proud to display their ancient heritage and culinary roots. Malika Sultana, and Rashida Begum, the proprietors-cum-chefs of Bozlanj Traditional Restaurant, first started back in 2016 with the aim to promote Wakhi-Pamiri cuisine by providing authentic dishes made from fresh ingredients which are not available elsewhere.
About The Restaurant Name Bozlanj Cafe
Bojlanj-a local herb found on the mountain pastures is the inspiration behind the restaurant's unique name.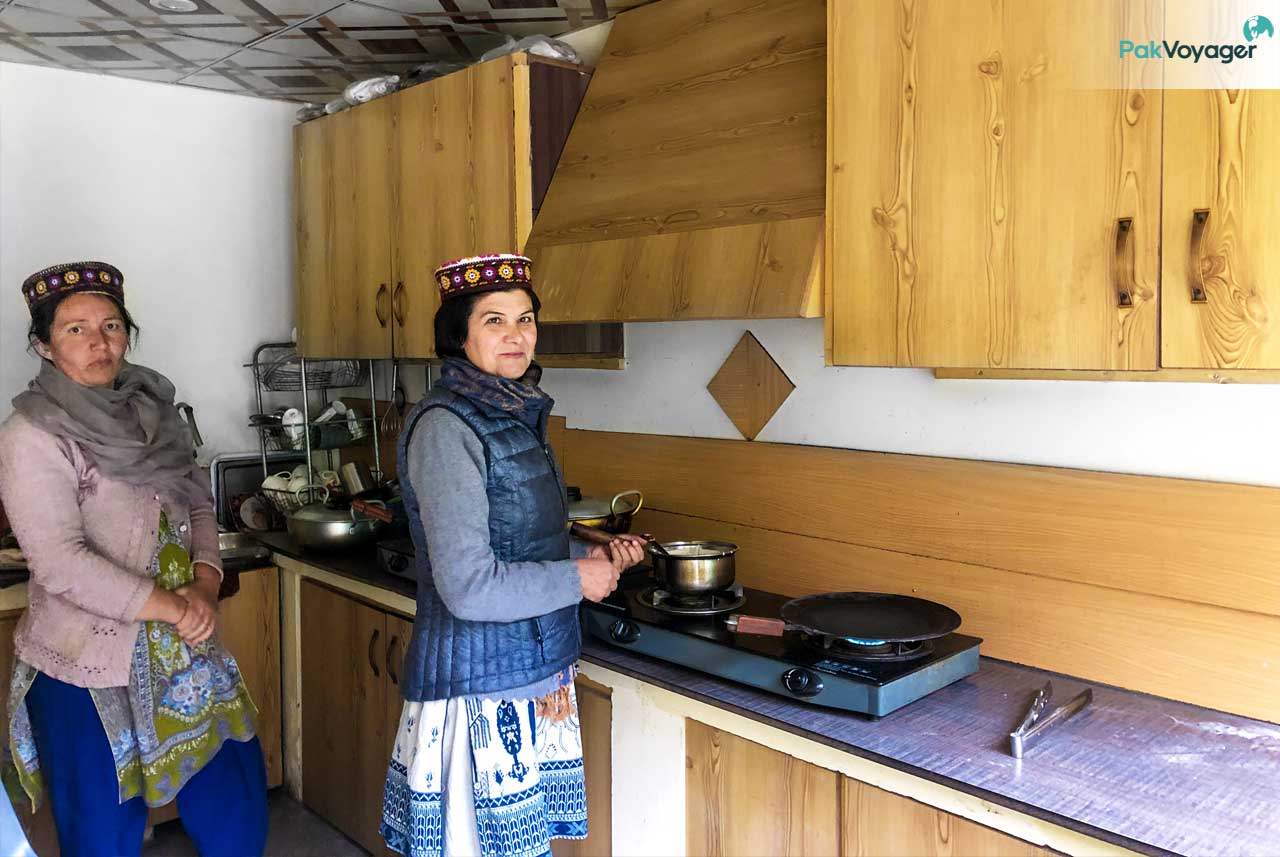 Bozlanj Cafe Menu
Sweet Gral-Crepes

Urzu'k-savory snacks eaten with tea

Chilpek (traditional paratha and bread roll)

Molida (shredded chapati cooked with buttermilk lassi and topped with apricot oil)

Qaq Moch (sweet-tasting dried apricots and noodle soup).

Ghilmind-Flatbread with cottage cheese, Apricot oil, and herbs

Semnek

Choy-milk tea
What so special about Bozlanj Cafe
The women owners are enthusiastic about their cuisine and eager to share their Pamiri culture with visitors. They are super hospitable and welcoming. Bozlanj is an ideal place for families also. If you're seeking a real Hunza experience, Bozlanj cafe is the place to go. The cuisine of the Pamiris is distinct from central Hunza food, but it has elements of Central Asian cuisine. Bon Appetite!
Where to find Bozlanj Cafe?
The present location of Bozlanj Cafe is on the KKH read near Gulmit filling station in Gulmit-Gojal Hunza. The past location was near the Gulmit Polo Ground. It will take an hour's drive from Karimabad to reach Gulmit Village via Karakoram Highway (Hwy/N-35).
Kha Basi Cafe Altit Fort
The Kha Basi Cafe is one with history and nature in the ancient foothills of Altit Fort. With sprawling views of the Hunza River and the Royal garden with its numerous fruit trees the restaurant can claim to be at one with history and nature. Kha Basi is an all-women-operated cafe that provides delicious Hunza traditional food with a traditional Hunza twist. It serves breakfast as well as lunch. The chefs are well versed in their craft, ensuring every dish served tastes fresh on the palate.
Kha Basi offers a variety of both savory and sweet dishes made with local produce fresh, organic ingredients. The is a must-visit when you are in Fort. The cafe offers stunning views of the Hunza Valley and serves delicious traditional food.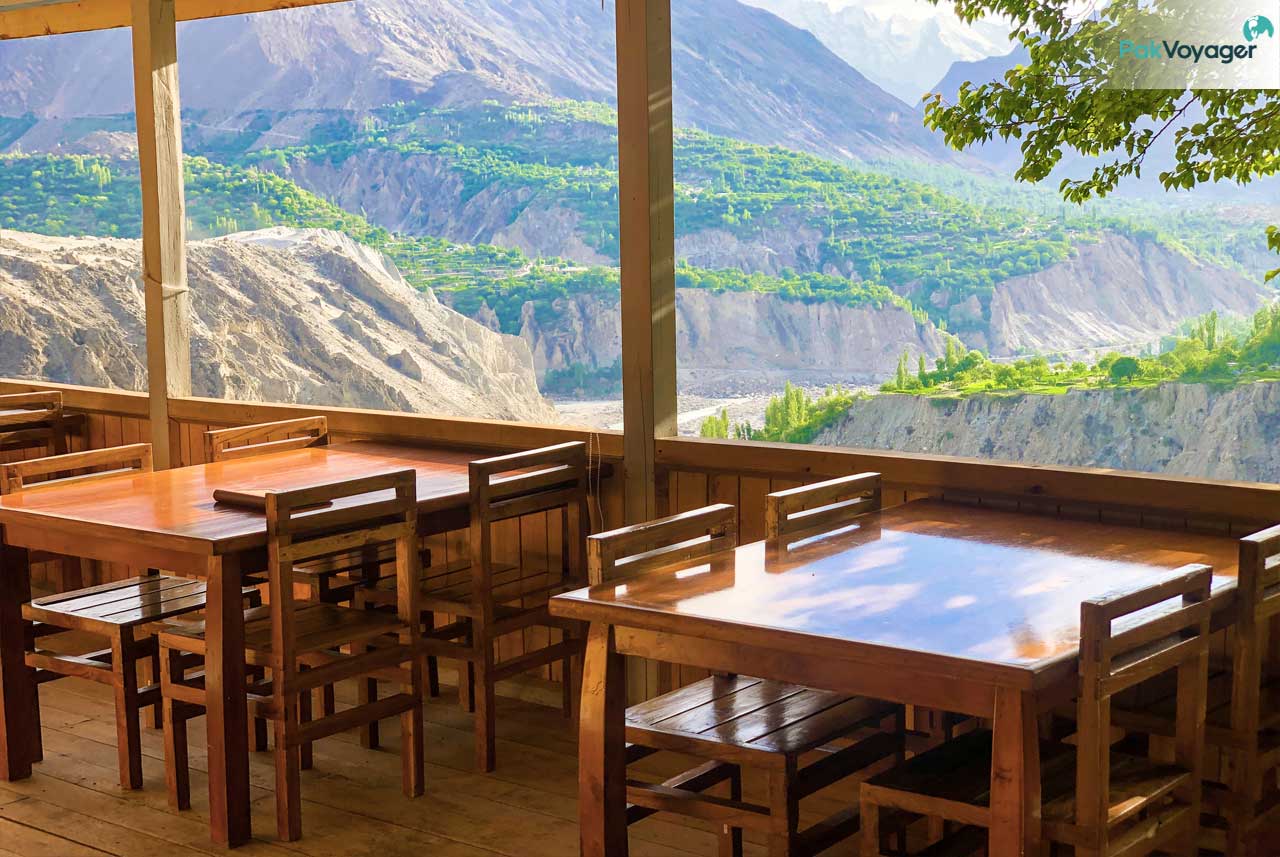 Kha Basi Menu
Traditional Hunza Food includes
Dawdo-Soup

Chap Shuro

Burus Shapik-Cottage Cheese, Apricot seed oil, and flatbread

Berikutz-Apricot seed paste, flatbread, and Apricot seed oil

Tumuro Chai-Wild Thyme tea

Diram Phitti

Seasonal fruit drinks
Kha Basi Cafe View
Visitors to the Kha Basi Cafe will be greeted with an incredible view of the giant Karakoram Mountains and a groomed orchard. The entire garden smells divine during spring blossom time, but it's even more breathtaking when all colors turn into shades of gold before winter sets in!
The ambiance of Kha Basi Cafe
The simple cafe has a compact indoor dining area and an "L"-shaped veranda with breathtaking views of the orchard and surrounding mountains and Hunza River. There is no better location to sample traditional Hunza cuisine while unwinding in the beautiful surroundings before or after seeing the ancient Fort.
Where is Kha Basi Cafe Located?
The Kha Basi Cafe is a fine dining restaurant that sits at the foot of Altit Fort. You can reach Altit village from Karimabad which will take just 10 minutes to drive via Karimabad road and Sultanabad Road.
Cafe Culture Hunza
A restaurant in the central Hunza Valley that is serving delicious food to travelers and locals. The Café Culture Hunza provides on-site, fresh dishes with an emphasis on authentic Central Hunza cuisine made from local ingredients. They also deliver within a 7km radius!
Launched in 2015 to cater to tourist demand, the café has a constantly evolving menu that features both traditional and modern takes on Hunza cuisine. It provides a homely yet professional taste of the local food and culture, complete with a great view of the Altit's old settlement.
What sets Café Culture Hunza apart?
Café Culture Hunza is unique because it is one of the first restaurants in the area to focus on serving Central Hunza cuisine. The cafe aims for verifiable farm-to-fork perfection with dishes like organic Hunza Pizza or barley flour crepes made on-site daily alongside seasonal vegetables freshly picked that day.
The staff at this cafe is willing to make adjustments on the go and accommodate customizations when possible.
Café Culture Hunza Menu
Chap Shuro

Burus Shapik

Hani Xe Berikutz

Baro ve Guyaling with Shikartutz (Barley crepes with Fenugreek stew)

Hoi lo Garma

Xamik Xe Aloo

Xamik Xe Hoi

Hamamno Giyaling

Hoser-e-Hoi

Sharbat

Harisa

Supra

Various types Dawdo (Soup)
Where is Cafe Culture Hunza Located?
Café Culture Hunza is located in Altit Village, a short 20-minute drive from Karimabad town. Cafe Culture is positioned outside the Altit Fort settlement on Ahmedabad Road.
Safina's Cafe Hunza
If you're looking for a relaxed and comfortable atmosphere in which to enjoy some traditional Hunza food, look no further than Safina's Cafe. This charming cafe is located in the heart of Altit-Hunza and offers a variety of both savory and sweet dishes made with fresh, organic components. Safina's specializes both in traditional Hunza cuisine as well as continental. The tastes of the Hunza region are unique and delicious. Run by a highly skilled woman from within this community, Safina's offers clients an authentic taste experience with fresh produce that can't be found anywhere else in town!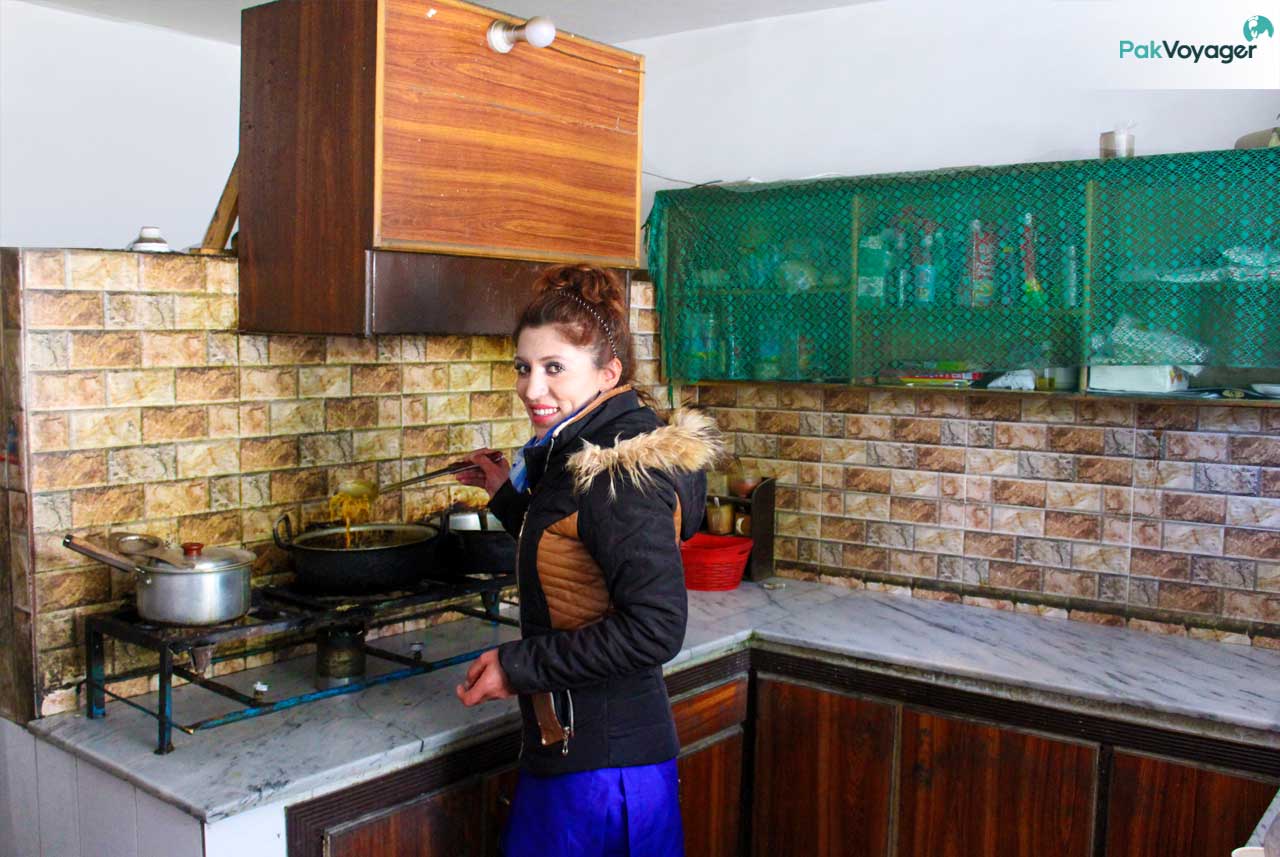 Safina's Café Hunza Menu
Chap Shuro-with a unique flavor of dried fruits including dried Apricots

Burus Shapik

Giyal

Dawdo (Vegetable as well as meat soup)
What makes Safina's Café special
The female chef "Safina' at this restaurant has a passion for cooking and an innovative mind. Tastes are transformed with each dish she creates, which is why you'll never see the same thing twice!
Where is Safina's Cafe
Safina's Cafe is located in Altit. Safina's Cafe is positioned on the Sultanabad road that leads to Duiker in Altit, Hunza. A 20-minute drive from Karimabad town will take you to Altit village.
Taste of Hunza Restaurant-Altit Village
With a marvelous view of the Altit water reservoir flanked by willow trees, Taste of Hunza Restaurant is one of the best places to savor traditional Hunza foods. The restaurant has a great indoor dining area with a view of the waterbody. Situated within the old settlement of Altit village the restaurant is easily accessible.
After a day of exploring at 1100 years old Altit Fort, take some time to enjoy the local food.
The restaurant offers a wide variety of Hunza cuisines as well as international dishes to cater to the needs of every tourist. The food is prepared with organic and natural ingredients.
What makes it Special?
Its proximity to the ancient Altit settlement and fort makes it a great place to stop by and relax. The culinarians at Taste of Hunza take pride in what they do- which is evident from the fantastic food. Apart from the scrumptious food, the hospitality of the restaurant staff is also commendable.
So, if you find yourself in Altit village- make sure to visit Taste of Hunza for an unforgettable experience!
On the Menu:
Dawdo

Chap Shuro

Burus Shapik

Berikutz

Tumuro Chai-Wild Thyme tea

Diram Phitti

Seasonal fruit drinks

Dumplings
Moksha Resorts-Gulmit
A family-run resort, Moksha Resort Hunza is an eco-friendly getaway that overlooks the beautiful Gulmit Village. It offers guests a tranquil and rejuvenating experience in the lap of nature.
Moksha Resort Hunza has a healthy mix of traditional and modern dishes. The food is incredible - it's not just delicious, but also nutritious! You can enjoy all your favorite drinks too like fresh juice or coffee while breathing in the spectacular views of the surrounding Karakoram Mountains.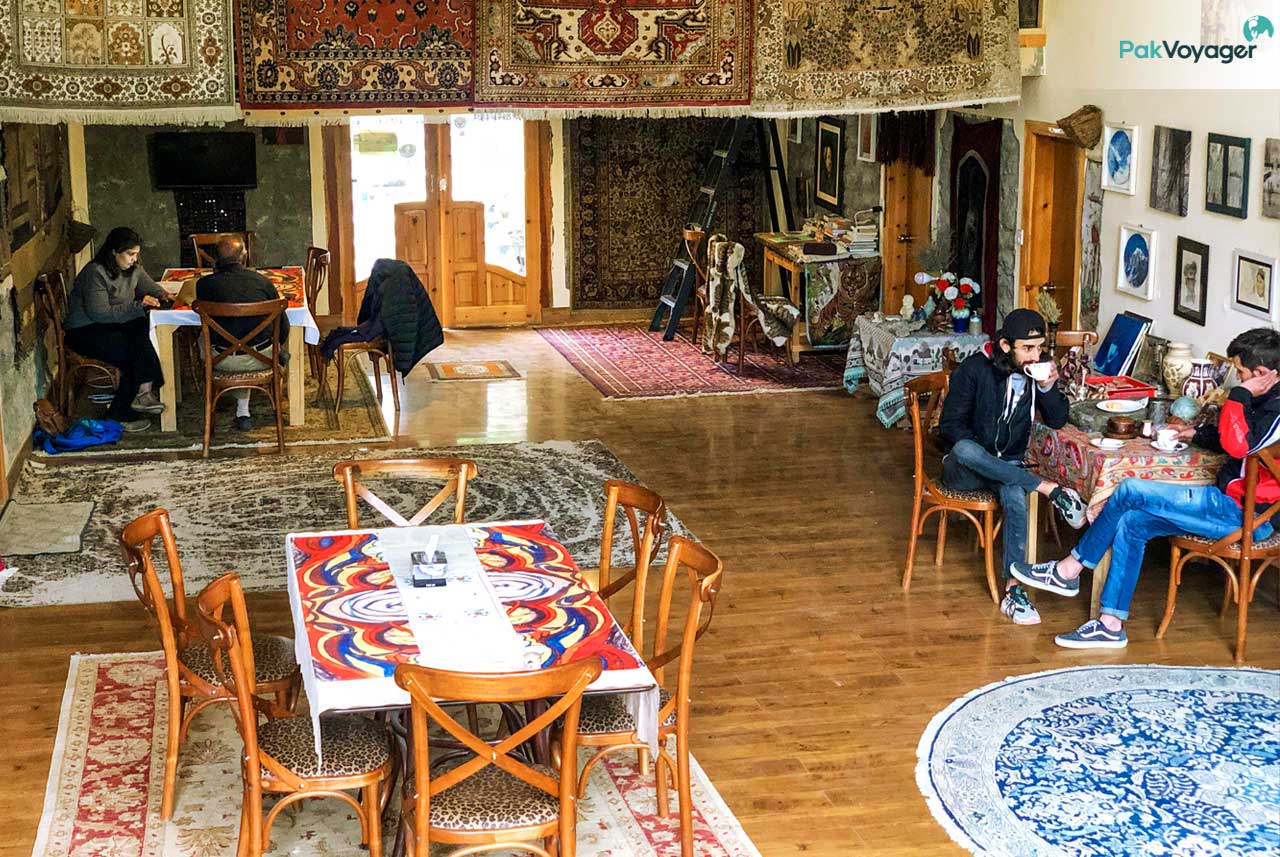 On the Menu
The menu offers both Pamiri/Wakhi cuisine (influenced by Central Asian cuisine), alongside Pakistani and Continental food. The food at Moksha Resort Hunza is organic, fresh, and healthy with an emphasis on flavors from the Karakoram.
Ghilmindi-Cottage cheese and flatbread with herbs

Molida-made with flatbread and sour buttermilk

Gyal-whole wheat flour crepe

Dawdo-Soup made with sour cheese and homemade tagliatelle
Food Meets Arts
The Moksha Resort Hunza is a haven for those looking to get away from the hustle and bustles of life. Take a walk through the doors of Moksha Resort Hunza and be immersed in an unbeatable ambiance. The high ceilings will floor to ceiling windows will make you feel like you're in a different world. The wall-mounted heirloom rugs and paintings create an old-world charm.
The food at Moksha Resort Hunza is served in the same dining room and you can choose to sit by the window to enjoy Gulmit's stunning scenery while you feast on some of the best Pamiri food in all of Hunza Valley.
Moksha Resort Location
The Moksha resort lies only 43 kilometers away from Karimabad town with easy access made possible through 1hr 8min drive time via Karakoram highway. It is located in Chamangul, Gulmit village in Upper Hunza valley.
So, there you have it! A guide to some of the best places to enjoy traditional Hunza food in Hunza Valley. From family-friendly cafes with a view to family-run resorts, there are plenty of options to choose from. And with so many delicious and healthy dishes on the menu, you're sure to find something that you'll love! So, what are you waiting for? Start planning your authentic trip to Hunza Valley today with PakVoyager!