Skardu, situated at the heart of the northern region of Pakistan, is a place of magnificent natural beauty and rich cultural heritage. A place that will leave you mesmerized with its natural beauty and adventurous opportunities. Located in the Gilgit-Baltistan region of Pakistan, Skardu offers a perfect blend of beautiful nature and rich culture, making it a must-visit destination for travelers.
This is a must-visit gem of Pakistan for anyone looking to explore the country's rich, vibrant culture and rugged wilderness. Whether you're a seasoned tourist or a first-time visitor, Skardu will leave an indelible effect on you. This detailed Skardu Travel Guide will take a closer look at what Skardu has to offer and how to get the most out of your trip.
Getting to Skardu
Let's first begin with how to get to Skardu. Skardu is accessible by air and road. The Skardu Airport offers flights from Islamabad and other major cities of Pakistan. However, the flights are often subject to weather conditions and cancellations.
Alternatively, you can take a road trip to Skardu from Islamabad or Gilgit. The road trip is an adventure in itself, offering breathtaking views of the Karakoram Mountains and the Indus River. Hiring an experienced driver who is familiar with the route and road conditions is recommended.
Top Attractions in Skardu
Skardu has a wealth of attractions that cater to different interests and preferences. From historical landmarks to natural wonders, Skardu has it all. These promising landscapes and mesmerizing views are a must-visit for every traveler. Here are some of the top attractions you should not miss:
Shigar Fort
The Shigar Fort is a 17th-century fort that has been reinstated and converted into a hotel. This antique fort is located in the picturesque Shigar Valley and offers a glimpse into the history and culture of the region. It offers 20 rooms that are furnished with traditional wooden furniture and provide a comfortable stay.
K2 Base Camp
The K2 Base Camp is a must-visit for adventure enthusiasts and mountaineers.K2 base camp is located at an altitude of 5,150 meters and offers stunning views of the Karakoram Mountains. The trek to the base camp is challenging and requires prior experience and preparation.
Manthal Buddha Rock
The Manthal Buddha Rock is a rock carving of Buddha that dates back to the 8th century. It is located in the Manthal Valley and is a testament to the region's Buddhist past. Archeologists have given great time and effort to ensure that carving remains well-preserved and provides insight into the history and culture of the area.
Deosai National Park
The Deosai National Park is a high-altitude plateau that possesses a variety of flora and fauna. It is located at a high altitude of 4,114 meters and covers an area of 3,000 square kilometers. This national park is home to the Himalayan brown bear, snow leopard, and various bird species. You wouldn't want to overlook the park during the sunny months when the wildflowers are in full bloom.
Satpara Lake
Satpara Lake is a glacial lake that is located near Skardu. Snow-capped peaks surround this beautiful lake and offer breathtaking landscape views. It is also well-known as a popular spot for fishing and boating.
Katpana Lake and Cold Desert
Katpana Lake and Cold Desert are located near Skardu Airport. This lake gives a breathtaking view of a crystal-clear water body that reflects the surrounding peaks. On the other hand, the Cold Desert is a desert landscape that is surrounded by snow-capped mountains. This beautiful landscape uniquely contrasts sand dunes and snow-capped peaks, attracting thousands of travelers each year.
Khaplu Palace
The Khaplu Palace is a historical landmark that dates back to the 19th century. This ancient palace is located in the Khaplu Valley and has been converted into a hotel. Khaplu Palace is a testament to the history and culture of the region and provides a comfortable stay. If you're a rich history explorer and connect best with the heritage, this place is a must-visit for you.
Adventures in Skardu
Skardu also offers a range of adventure activities for adrenaline junkies. Along with offering some magnificent spots of nature to relax your mind, Skardu also has some of the best spots to give you a heightened adrenaline rush. The region boasts some of the highest peaks in the world and offers endless trekking and mountaineering opportunities. Here are some of the adventure activities you can try in Skardu: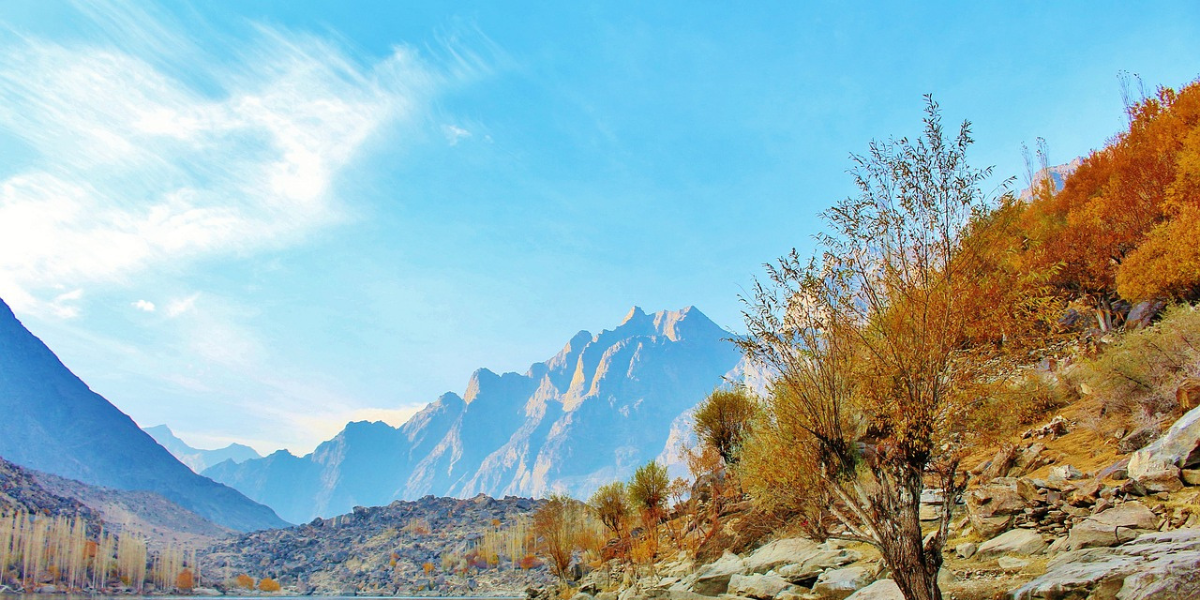 Trekking and Hiking Opportunities
Skardu is a trekking paradise that offers some of the world's most challenging and rewarding treks. Karakoram Mountains, which are situated in the heart of Skardu, offer a range of trekking routes that cater to different levels of experience. The most popular treks in Skardu include the K2 Base Camp Trek, the Baltoro Glacier Trek, and the Gondogoro La Trek.
Mountaineering Opportunities
Skardu is a mountaineering hub that attracts mountaineers from around the world. You can find some of the highest peaks in the world, including K2, Gasherbrum I, and Broad Peak in Skardu. High-peak mountains offer challenging climbs that require prior experience and preparation. The best time to ascend these peaks is during the summer months when the weather conditions are favorable.
Rock Climbing Opportunities
You can find a range of rock climbing opportunities for beginners and experts in Skardu. Skardu is known to possess a variety of rock formations that offer different levels of difficulty. If you are a rock climber enthusiast, you wouldn't want to miss out on the Baltoro Glacier, the Trango Towers, and the Nanga Parbat.
White Water Rafting
Indus River, the biggest river in Pakistan, is known to offer excellent whitewater rafting opportunities for adventure enthusiasts. The river has different sections that cater to different levels of experience. Book your raft during the hot summer season, when the water level is high, to beat the heat and enjoy the best rafting experience.
Skiing and Snowboarding
An adventure junkie will never not be interested in indulging himself in a snowboarding experience. Skardu is a winter wonderland that offers excellent skiing and snowboarding opportunities. You can find many ski resorts that offer different levels of difficulty. The most loved ski resorts by travelers in Skardu are the Malam Jabba Ski Resort and the Naltar Ski Resort.
Cultural Experiences in Skardu
Skardu is a place rich in culture and traditions. It offers a unique blend of culture and nature. As Skardu is situated at the core of Northern Pakistan, its lifestyle reflects different ethnic groups, each with its own culture and traditions. Here are some of the cultural experiences you can try in Skardu:
Local Festivals and Events
Skardu hosts several festivals and events throughout the year that celebrate the region's culture and traditions. Some of the most popular festivals in Skardu include the Shandur Polo Festival, the Skardu Festival, and the Urs of Hazrat Imam Hussain.
Visiting Traditional Bazaars and Markets
Skardu is home to several traditional bazaars and markets that offer a range of local products and handicrafts. You can find different ethnic pieces of art in the local Bazaars of Skardu. Skardu's local markets have everything from embroidered traditional dresses to wooden carvings.
Meeting the Friendly Locals
Residents in Skardu are undoubtedly the most friendly and hospitable locals who are always eager to share their culture and traditions with visitors. Interacting with the locals is a great way to learn more about the region's culture and way of life.
Accommodations in Skardu
Skardu is a great tourist spot for its exceptional beauty and landscape. As a great tourist spot, it also offers a range of hotels and guesthouses that cater to different budgets and preferences. From budget-friendly guesthouses to luxury hotels in Skardu, You can get everything as per your budgeting needs. Here are the best and most reliable accommodations you can choose from:
Budget-Friendly Options
If you are tight on a budget and are looking for pocket-friendly guest houses and hostels that provide basic amenities at good prices, try visiting the PTDC Motel Skardu, the Shangrila Resort Skardu, the K2 View Hotel, and the Skardu Youth Hostel. These inexpensive guest houses offer you all the desired necessities for your comfortable stay in Skardu.
Luxury Options
For those in search of a more luxurious experience, Skardu has several high-end hotels and resorts that offer top-notch amenities and services. The most popular luxury options in Skardu include the Serena Khaplu Palace, the PTDC Shigar Fort Residence, and the Concordia Motel. These enticing lodges offer you the best of their premium services with a range of modern amenities and mesmerizing views.
Sampling Local Cuisine
Skardu is jam-packed with rich culture and heritage, and the local cuisine is no exception. The food in Skardu is a delicious blend of local and regional flavors, and there are several dishes that are Skardu-specialities that you will not find anywhere. Thus it is a must-try when visiting the area.
One of the most loved local dishes in Skardu is "Skardu Trout." As Skardu has some of the best freshwater streams and lakes, the trout caught in these waters are considered the best in the world. The Skardu- trout is cooked in several different ways, including fried, grilled, and baked, and is typically served with local vegetables and rice.
Another famous food in Skardu is "Sattu." Sattu is a traditional dish made from roasted barley flour, and it is typically eaten for breakfast. It is served with local bread, butter, and a cup of tea and is the perfect way to start your day. Locals also like to intake sattu in the form of a fresh-iced drink, which is not only refreshing on hot summer days but also a very healthy option.
For those with a sweet tooth, Skardu has several delicious desserts to satisfy your cravings, including "Phini," a sweet and flaky pastry that is typically served with tea, and "Apricot Jam," which is made from locally grown apricots and is a popular topping for bread and pancakes.
If you're looking for a substantial meal, then you must try "Momo." Momo is a traditional dish that is similar to dumplings, and it is typically filled with minced meat and vegetables. It is served with a spicy tomato sauce and is popular among visitors and locals alike.
When Is The Best Time To Visit Skardu?
Skardu can be visited year-round, but the best time to visit depends on your interests and preferences. The overall weather in Skardu is pleasant enough to make your trip memorable and experience-worthy. However, the summer months, from May to September, are the most popular time to visit Skardu. The weather is mild and pleasant, and the clear skies make it perfect for trekking, mountaineering, and outdoor activities.
During this time, the average temperature scales from 10°C to 20°C, and the days are longer, providing ample time to explore Skardu's beautiful landscapes and natural wonders. Hot and breezy summer months are also ideal for cultural experiences, as this is the time when several festivals and events are held in Skardu, including the famous Shigar Polo Festival.
But if you're interested in winter sports such as skiing and snowboarding, then the winter months from December to February are the best time to visit Skardu. The temperature during this time ranges from -10°C to 10°C, and the snow-capped mountains and frozen lakes offer a breathtakingly beautiful backdrop for winter sports enthusiasts.
Wrapping Up!
Skardu is the best Pakistani destination that offers something for everyone. Whether you're an adventure enthusiast or a passionate nature lover, Skardu has it all. From trekking and mountaineering to cultural experiences and luxury accommodations, Skardu is a destination that will leave you with unforgettable memories. With its natural beauty, rich culture, and endless adventure opportunities, Skardu is a destination that should not be missed.
So, if you're planning your next adventure in Skardu, consider visiting Pak Voyager for the best Skardu Tour packages. We are experienced trip planners in Pakistan that ensure that you get a memorable and luxurious travel experience. Visit our website now and get the most reliable tour packages at great pricing.