Hunza Valley in Autumn: Best places to travel in fall
Hunza Valley is one of the best places to travel in the fall for a number of reasons.The area is known for its dramatic karakoram mountains, azure blue lakes, and pristine glaciers. In autumn, the leaves of the area's apricot, apple, and walnut trees change color, making for a breathtaking landscape. One of the best things about the Hunza Valley is its friendly locals. The people of Hunza are known for their hospitality and are always happy to share their culture with visitors. In addition, Fall is a great time to visit Hunza Valley because the weather in Hunza in October is pleasant. It's not too hot or too cold, and you can enjoy hiking and other outdoor activities without worrying about the heat. Finally, Hunza Valley is very budget-friendly. If you're looking for a cheap place to travel in the fall, this is definitely one of best places to travel in the fall world. So if you're looking for a stunning location with perfect weather and great prices, be sure to add Hunza Valley to your list of best places to go in autumn. You won't regret it!
The Hunza Valley is located in the Gilgit-Baltistan region also called the northern areas of Pakistan and is home to some of the most stunning scenery in the world which makes it autumn destination. Autumn or 'Dattu' as called in the native Burushaski language is the best-kept secret of Hunza. The valley is surrounded by towering Karakoram mountains, glaciers, and Lakes, and is a popular destination for hikers, climbers, and nature lovers.
Are you looking for best autumn holidays? The Hunza Valley is one of the most beautiful places on Earth, and it's especially gorgeous in autumn for best fall vacations. Read our Hunza Valley Travel Guide for an in-depth Hunza travel information.
Pak Voyager offers customer friendly, hassle free online Pakistan tour packages that are perfect for any budget. You can choose from a variety of different packages that include everything from hotels and transportation to meals and sightseeing. Book your hassle-free autumn Online Hunza tour packages today with Pak Voyager!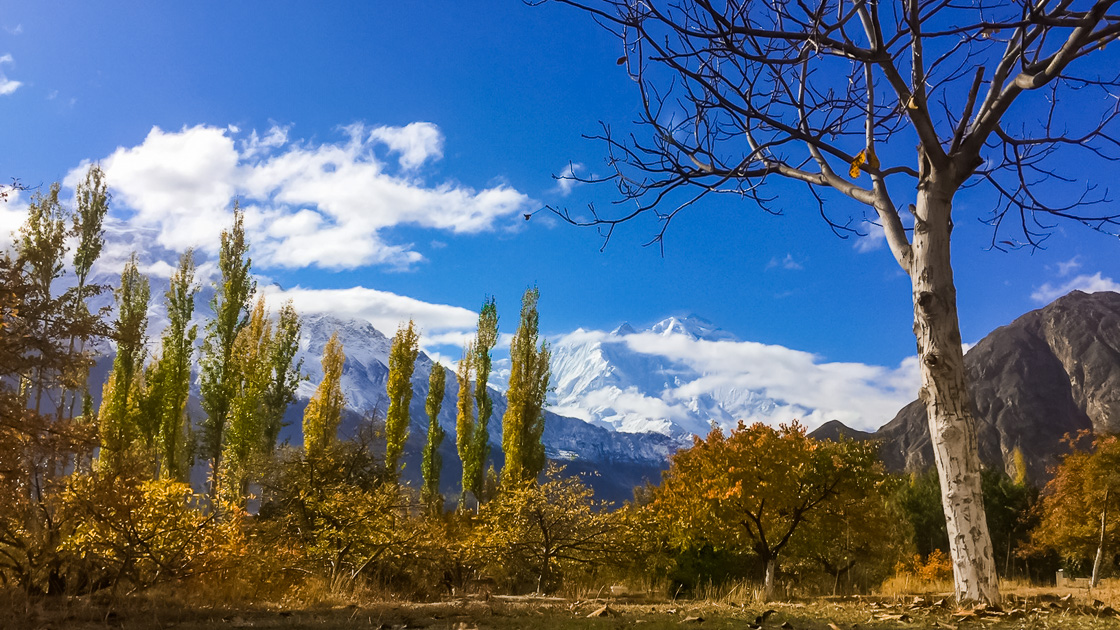 Here are five reasons why you should visit Hunza Valley this autumn:
1. The autumn scenery of the Karakoram Mountains against Fall foliage is breathtaking
2. The Hunza autumn weather is perfect for a vacation with unique culture and hertiage of locals.
3. There are plenty of things to do in Hunza in fall like Hiking, Apple Picking.
4. Hunza is a cheap place to travel in the world in autumn.
5. Hunza is one of the best destinations for autumn vacations!
Things to Do in Hunza Valley in Autumn
There are plenty of things to do in Hunza Valley in Autumn, from hiking and camping to apple picking. And it's a cheap place to visit compared to other autumn destinations like Europe or North America.
· -Hiking is a great activity to do in Hunza in autumn because of the cooler weather.
· -The scenic drives in Hunza Valley are very picturesque, especially during autumn when the leaves are changing color.
· -Hunza ancient villages are a great place to see the culture and meet locals.
· -Autumn is also a great time to try some of the local produce, such as succulent apples, grapes, pomegranates, and pears.
Whether you're a nature lover, a foodie, or just looking for a relaxing break, you're sure to find something to suit your needs in this breathtaking region. Here is a complete guide on things to do around Hunza this fall.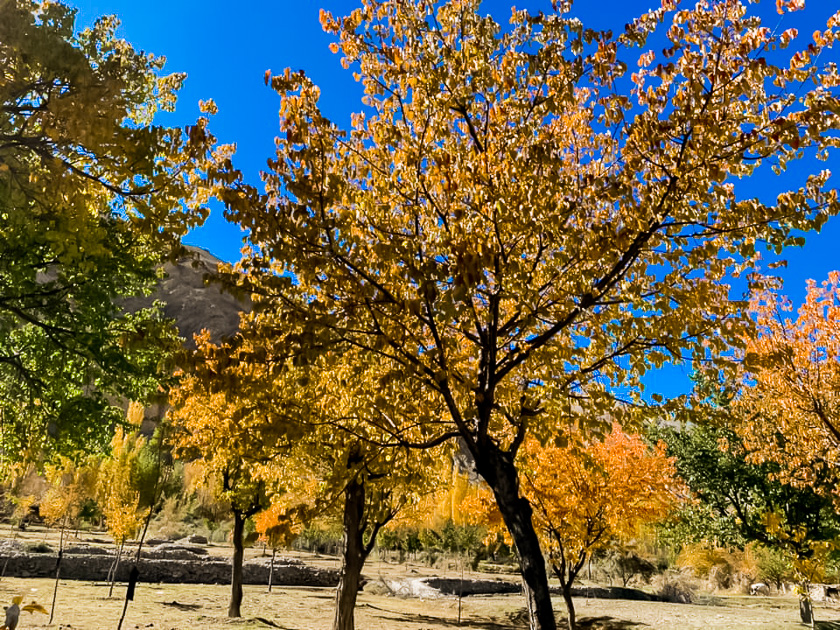 Apple Picking in Hunza in Autumn
Hunza in autumn is the perfect time to go apple picking. There are several apple orchards in the region, each with its own distinct flavor, and the mountains offer breathtaking views.
Nothing beats fresh apples that you plucked yourself. Make sure to ask for permission before you start picking, and don't forget to try some of the other local produce while you're there, such as grapes, pears, and pomegranates.
So, if you're looking for a fun activity to do with your family or friends, be sure to add apple picking to your list. Hunza Valley is the perfect destination for an autumn getaway. Children will love playing in the leaves, and adults can enjoy the many activities on offer. With its stunning scenery and its abundance of things to do, Hunza is a must-visit mountain destination during autumn.
Best Time to go to Hunza for Autumn
The best time to visit Hunza is in October. You can go there and enjoy a pleasant climate with beautiful leaves changing colors, fresh air, tasty apples on sale at marketplaces along side other fruits like grapes or pears that are equally delicious!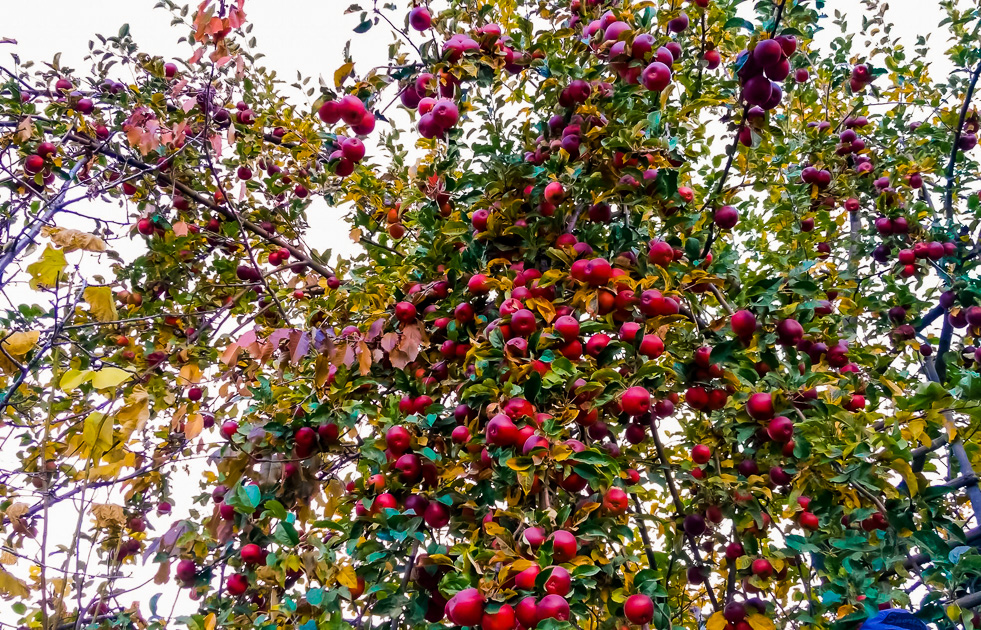 Hiking and Trekking in the Mountains
One of the best things to do in Hunza Valley during autumn is to go hiking and trekking. The cooler weather means that you can comfortably explore the many trails in the area without worrying about getting too sweaty or tired. There are hikes of all different levels of difficulty, so whether you're a seasoned hiker or a beginner, you'll be able to find a route that's perfect for you.
The region is home to several beautiful hiking trails, such as Ondra poygah in Gulmit village as well as glacier treks such as Batura Glacier and Passu Glacier.
Plan a Hunza hiking and trekking trip with Pak voyagers and explore the beautiful trails of Hunza Valley.
Best Time to Enjoy Hiking
The most popular time for hiking in Hunza valley is in the fall, when leaves change color and prepare their Final Stretch before winter arrives.
Autumn Scenic Drive on Karakoram Highway
The Karakoram Highway in Hunza Valley is a popular scenic drive that allows visitors to experience some of the best autumn leaves in all Pakistan. Spring and autumn are equally as lovely with their diverse colors, so make sure you don't miss out on this opportunity! Along your journey there will be many viewing points such as Nasirabad's Rakaposhi viewpoint; Khunjerab National Park (a famous hiking spot); Attabad Lake views Passu cones.
The Karakoram Mountains are a spectacular sight to behold in all their colorful glory. They're covered with neat rows of terraced trees that rise like stairways come fall time, an incredible example for others around the world who want something more than just plain old brown earth or snow-capped mountains!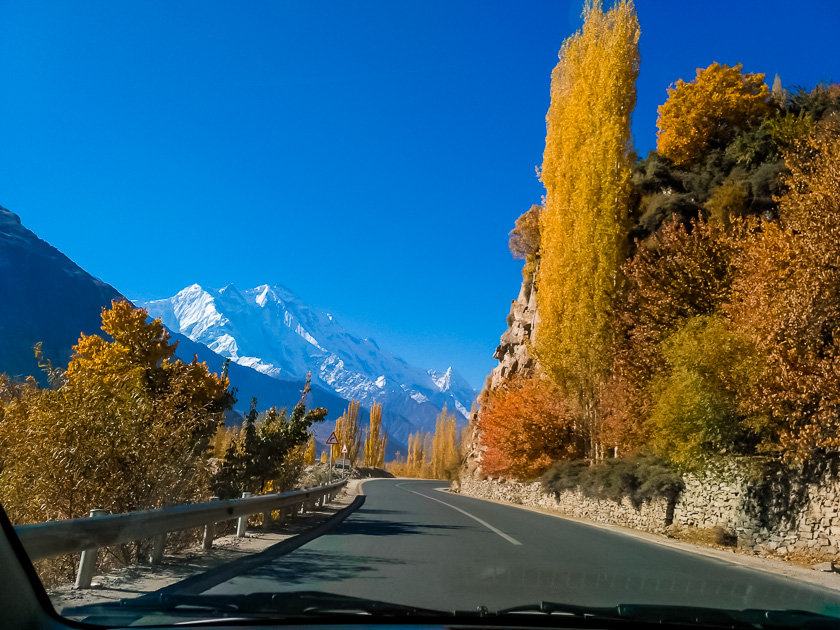 Autumn nature walks in Hunza's villages
One of the best ways to experience autumn in Hunza is by taking a nature walk through one of the villages. As you pass through, you will find friendly locals working in orchards and fields. The scenery is absolutely stunning, with the leaves changing color and the mountains in the background.
Some of the best autumn village walks can be found in Altit, Gulmit, Karimabad. Take a walk through Altit and Baltit Fort – two of the oldest forts in the area.
Each village has its own unique charm, and you're sure to find plenty of photo opportunities along the way. Be sure to stop and talk to the locals - they're always happy to chat and tell you about life in Hunza.
Enjoy the beautiful nature photography of autumn colors
To all the nature lovers and Instagrammers out there, this is the place for you! The natural beauty of Hunza Valley is jaw-dropping and it offers a number of photo opportunities.
From the Baltit fort to Rakaposhi viewpoints and from Passu glacier to Attabad lake, there are plenty of places where you can take some amazing shots.
Explore Duiker-best autumn view of Hunza and Nagar valleys,
Borith lake-migratory birds and fall foliage photography,
Altit Fort- the best view of the old settlement and Kha Basi Royal Garden,
Passu village-best view of Passu cones and Batura glacier,
Hussaini bridge-the best view of the Hunza river and beautiful mountains.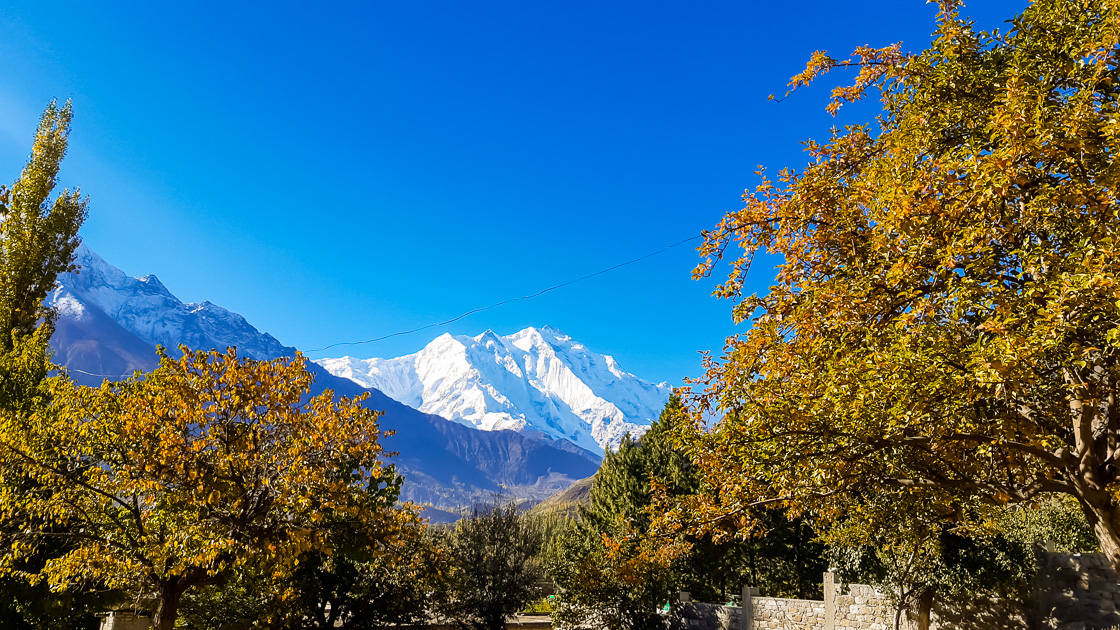 Try Out Traditional Food to keep you warm this Fall
The chilly weather of Fall is the perfect time to try out some hearty and warming dishes. There are a number of local restaurants in Hunza Valley that offer a variety of traditional Hunza dishes such as the famous Flex tea, mantu (minced meat dumplings), Chapshoro, Dawdoo (Local soup), and Mulida (a sour cheese delicacy of Pamiri cuisine).
So, if you're looking for a way to warm up this Fall, be sure to add trying out some local dishes to your list. Read Pak Voyager's blog on Hunza Valley Traditional Food to learn more about the local cuisine.
Hunza Weather in Autumn
The weather in Hunza Valley in October is simply perfect. The days are warm and sunny, and the nights are cool and refreshing. Though a chilling wind might pester you in the evening, the views are worth it. The climate conditions are ideal for all kinds of outdoor activities. This is best time to visit Hunza valley
The average temperature in Hunza Valley in October ranges from 15 degrees Celsius to 18 degrees Celsius.
What to Pack for Autumn in Hunza Valley?
When packing for autumn in Hunza, be sure to bring along clothes that can be layered. This way, you can easily adjust to the changing temperatures throughout the day.
Be sure to pack a jacket or sweater, and a shawl for the cool nights. And don't forget to bring along a pair of comfortable walking shoes with warm socks as you'll be doing a lot of walking in the mountains to take in all the sights.
Traveling to Hunza in Autumn is an experience you won't soon forget. The scenery is breathtaking and the weather perfect for a number of activities. Pak Voyager's Autumn Tours are the perfect way to take in all that this Pakistani valley has to offer. With experienced guides and a commitment to your safety and comfort, Booking your tour with Pak Voyager is the best way to travelPakistan. Book your Hunza autumn tour with Pak Voyager today!
Pak Voyager offers the best deals on Hunza online hotel, tour, and car rental bookings. We are a local and international tour company with the best customer services. We have local office in Hunza Valley that is always available to assist you with anything you need while on your trip. Our hassle-free online booking and payment system makes it easy and hassle-free. You can choose from a variety of our handpicked Hunza hotels, Hunza tour packages, and Hunza car rental options to create the perfect vacation for you.