Things to Do in Karimabad Hunza Valley: Activities and Attractions for Tourists
The stunning Karimabad Hunza valley offers tourists plenty of activities and attractions to enjoy. From hiking and camping in the surrounding mountains and valleys to visiting the ancient Baltit fort that overlooks the village, there is plenty to keep visitors busy while in Karimabad Hunza valley. Located in the Hunza Valley of Pakistan, Karimabad or Baltit is a small town and previously was the capital during Hunza state.
Karimabad town is rich in cultural and historical heritage. In addition, the friendly locals are always happy to welcome guests and share their culture and traditions. So if you're looking for an exciting and unique travel experience, be sure to add Karimabad Hunza to your travel bucket list!
During the reign of Hunza rulers, the town was called Baltit but now it has been renamed Karimabad, although both are in use. Karimabad is a getaway to explore nearby attractions in Hunza Region. Explore Pak Voyagers' diverse Online Hunza Valley Tour Packages that can take you to Karimabad and enjoy your time in Karimabad. Book Hotels, car rentals, or ask for a customized tour or travel service to explore Karimabad.
Here is our list of activities to do while in Karimabad Hunza.
Visit Baltit Fort – A UNESCO World Heritage Site in Pakistan
Karimabad aka Baltit is a picturesque town that overlooks the valleys of Hunza valley and Nagar valley. It served as the capital of the former princedom of Hunza and is now a popular tourist destination. The town is noted for its historic Baltit Fort and museum that used to be the main residence of the royal family of Hunza. It is now one of the top tourist attractions in Pakistan and the ancient architecture resembles that of the Potala Palace in Lhasa. Baltit Fort was designated a UNESCO World Heritage Site in 2004.
Get lost in the labyrinths of the old Fort and experience Baltit Forts' rich enchanting history.
Read our extensive article about Baltit Fort History of Ancient Baltit Fort.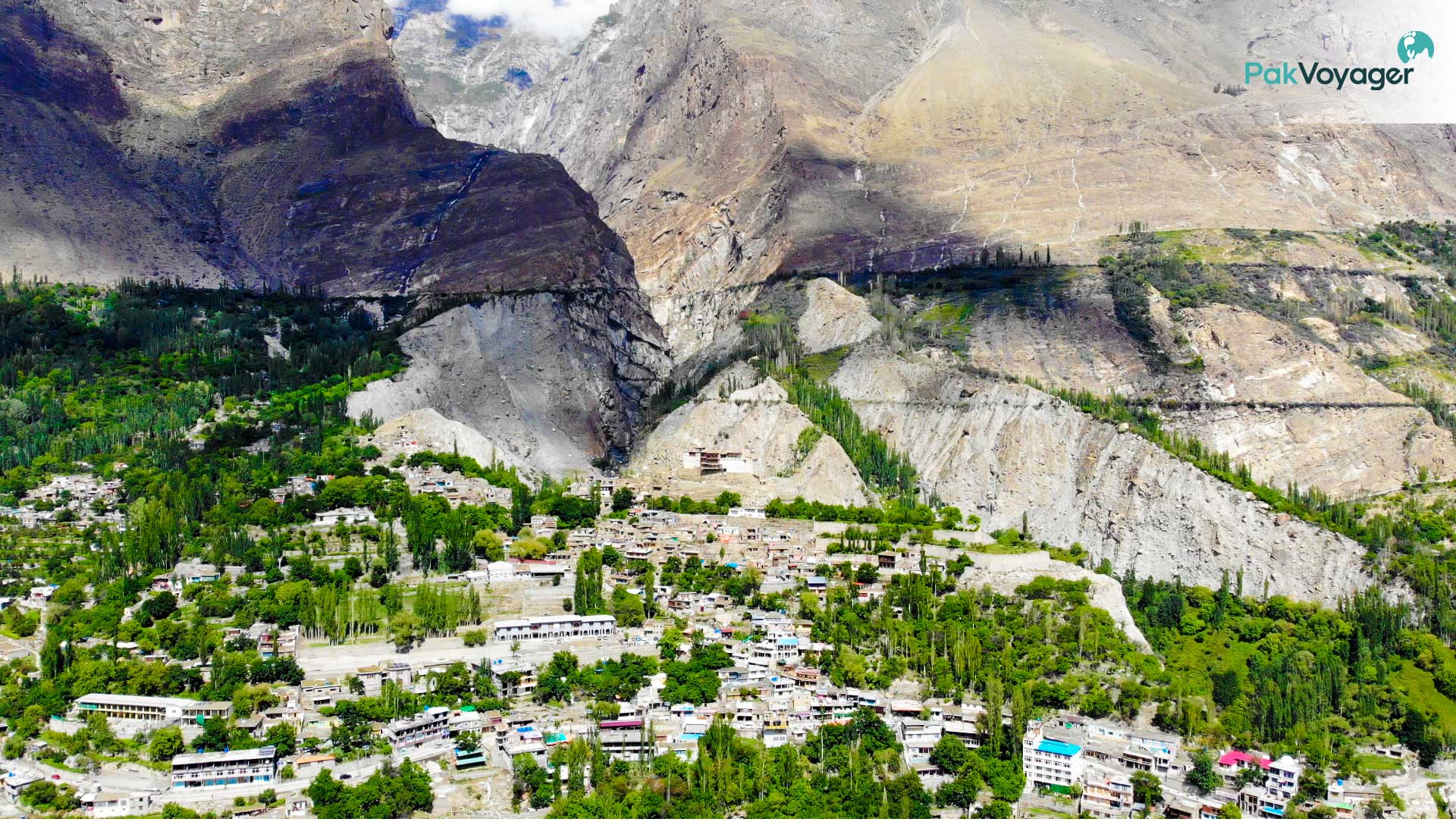 A Shopping Adventure in Karimabad: Buy Gems, Jewellery, and Handicrafts
If you're looking for an exciting shopping experience, Karimabad is the perfect place to go. The town is home to many small handicraft and gems and jewellery shops, and you can buy everything from traditional Hunza headwear to antiques. Situated on both sides of a cobbled path the shops are fascinating to look at. There are also a few good markets where you can buy dry fruits and nuts. So be sure to bring your wallet because you're going to need it!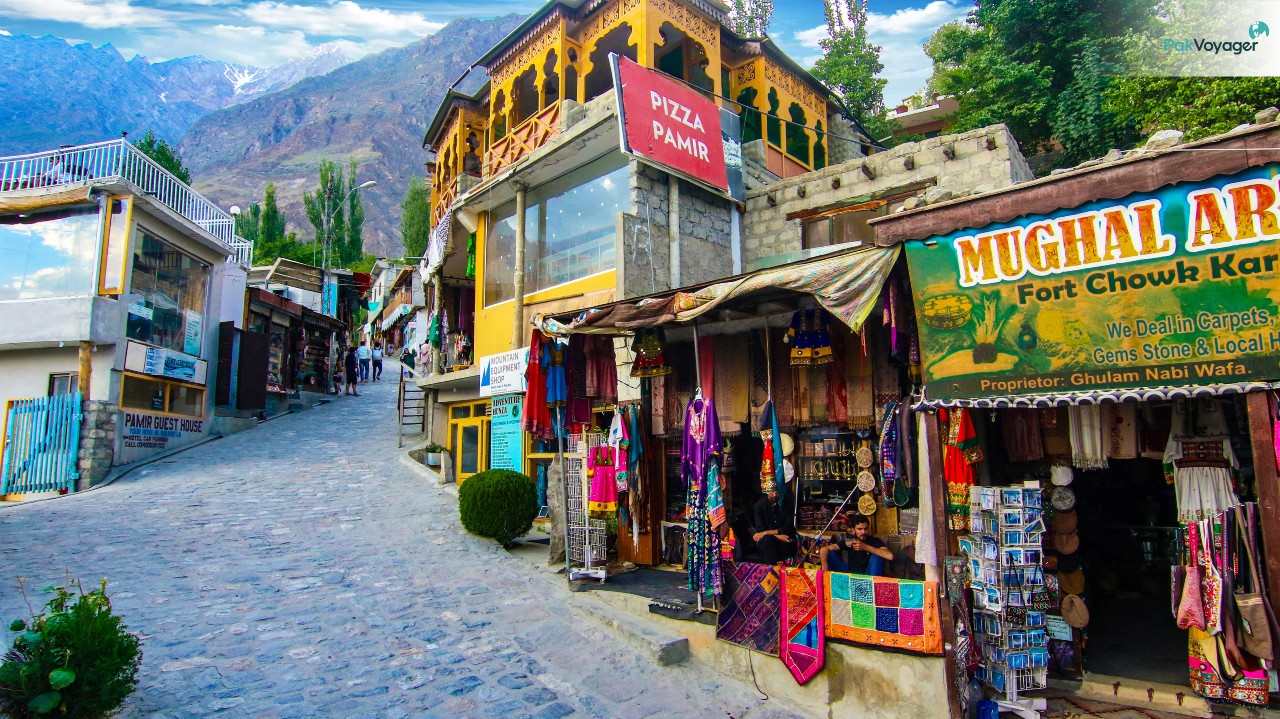 Meet Locals at Himaltarz Karimabad
Take a stroll down the ancient passageway known as Himaltarz, where you will encounter local elders, and learn about old folktales and the intriguing history of Hunza from their perspective. Read about the bravery and perseverance of these people who lived in such a harsh mountain environment. You will get an in-depth insight into the old and contemporary life in Hunza. Most of the locals can understand Urdu and English.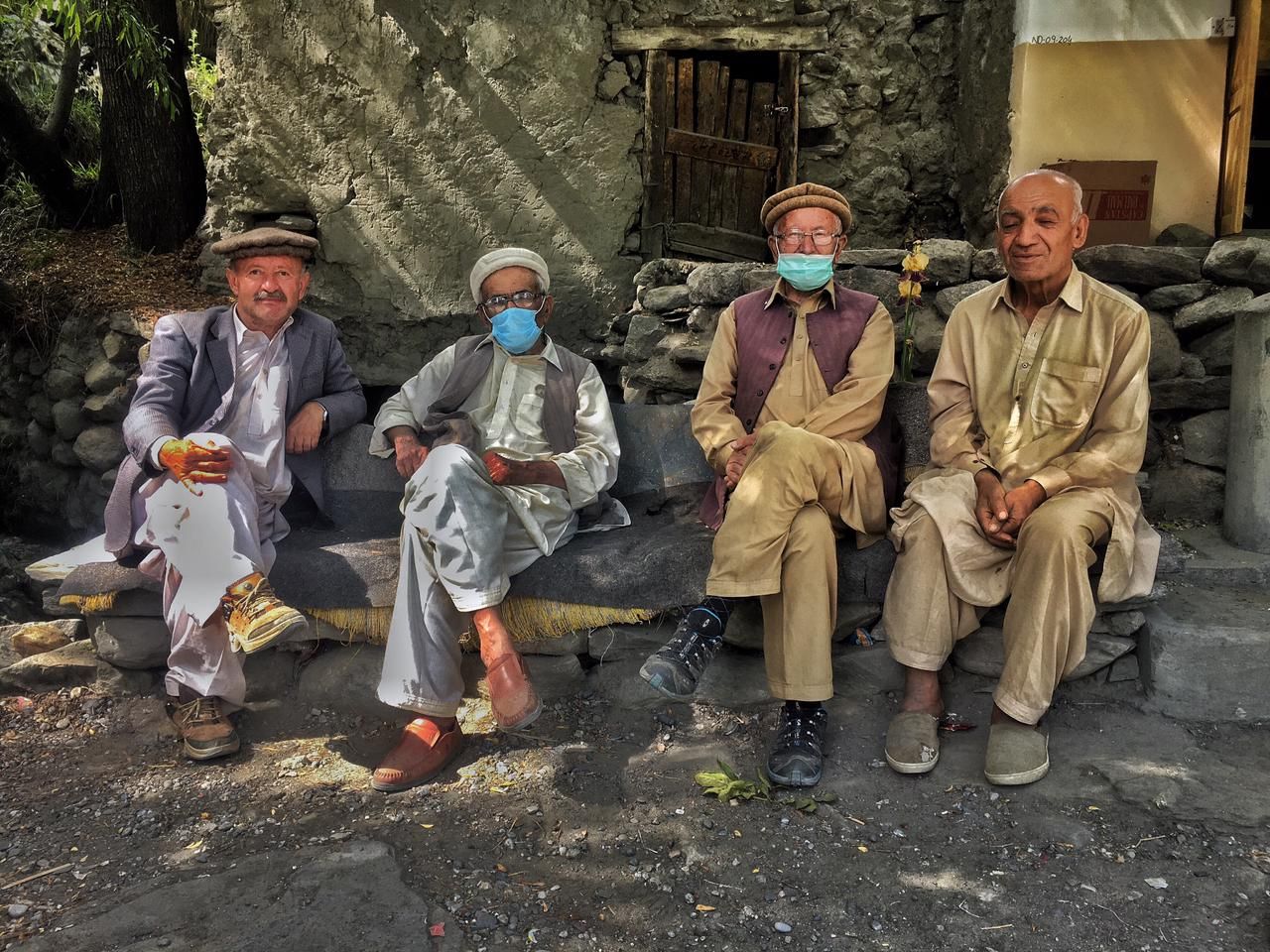 Try Hunza Traditional Food for an Authentic Experience
The best way to enjoy the Hunza culture is by trying the local hunza food in traditional Hunza food restaurants in karimabad. If you're in the mood for some authentic local food, there are plenty of options in Baltit. The best place to find street food is along the cobbled path to Baltit Fort, where you can find everything from Manto (Dumplings) to Dawdo (Hunza soup). Be sure to try some of the local dishes, that include Chap Shro (a stuffed flatbread similar to China's Roujiamo), Burus Shapik (Flat bear stuffed with herbs and cottage cheese), as well as Hoi Garma (green vegetables cooked with local pasta) as they are usually very tasty and affordable.
The most popular among travelers is the 'Hunza pavilion' which is run by a lively woman entrepreneur. There are also some local food restaurants that provide authentic Hunza traditional food.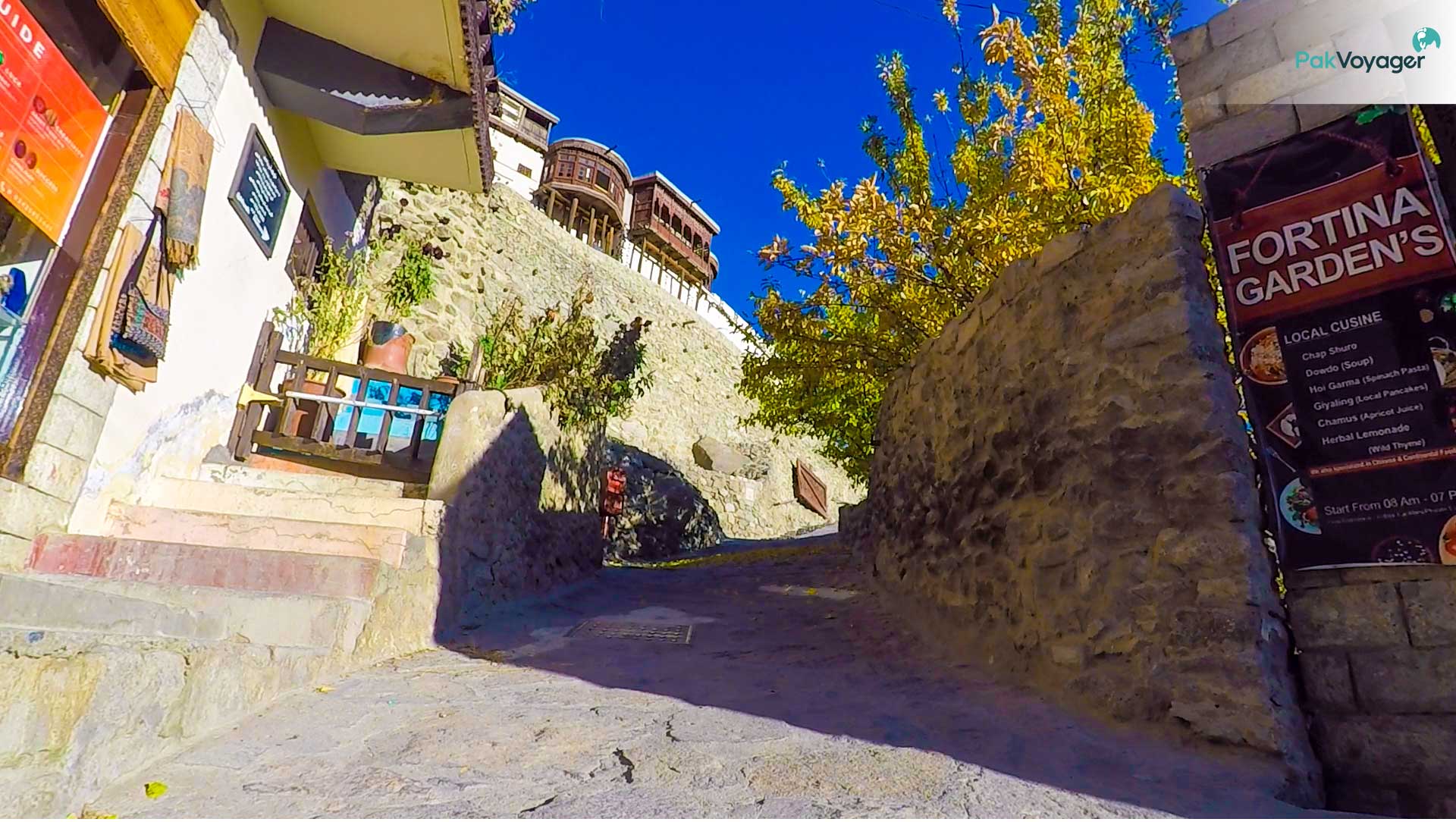 A National and International Food Experience in Karimabad
Karimabad is a small town with great food. With many restaurants and cafes to choose from, you're bound to find something that suits your taste buds! the most popular cafe in this area is Cafe de Hunza which offers wonderful and unique walnut cakes with coffee. Recently opened GingerFort Café and Mountain Cup Café also deserves mention. The menus at KarimAbad restaurants usually offer a variety of dishes from all over Pakistan as well as continental. The most popular restaurants in the town include Serena Hotel (Altit Royal Garden) Darbar Hotel, Hill Top hotel, and many more.
If one is having cravings for Pizza or burgers, you can find some options that too.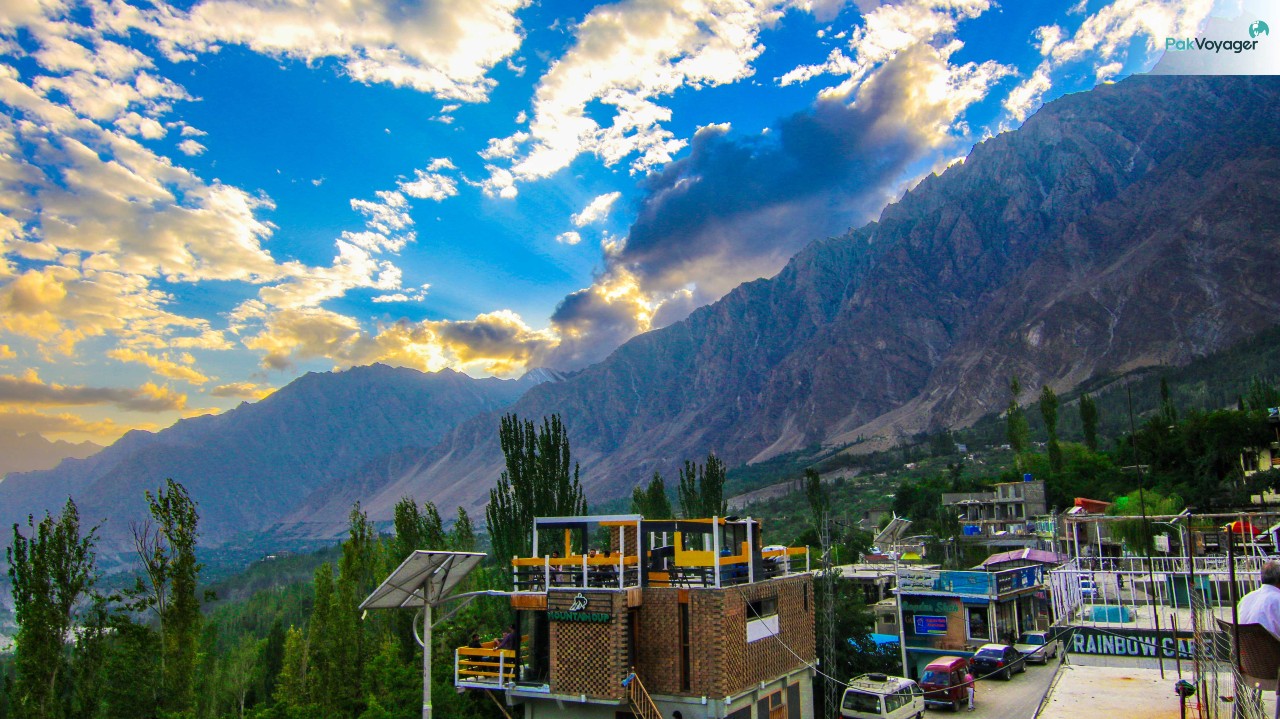 Experience Musical Night at Karimabad
Karimabad Hunza is a place where you can experience a rich and diverse culture. The musical evening in a stargazing night in Karimabad would be a great retreat to feed your soul. From the locals who are warm and welcoming, to the music and dance that is unique to this region, Karimabad Hunza is a cultural gem. Book a cultural program with local musicians and bands. They will be happy to share their music and dance with you! Ask us for advance and online booking of a cultural program in Hunza Valley.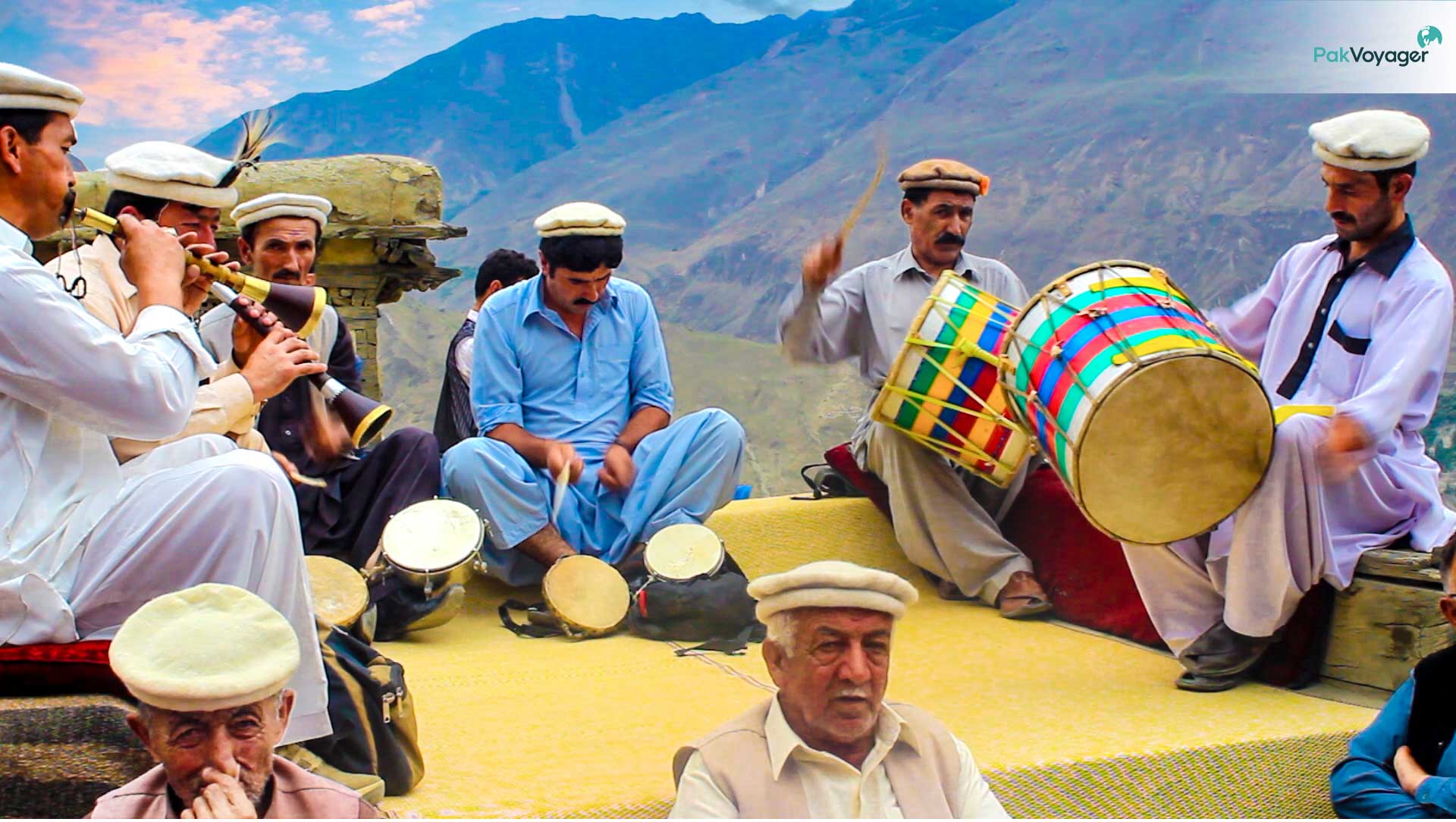 Camping Experience in Meadows
The best place to camp in Baltit is on the community meadows. Although the path is treacherous and taxing, the views are spectacular, and you'll be surrounded by beautiful mountains. Accompany a local tour guide to reach there. One gets to see an unhindered view of the surrounding Karakoram Mountains, valleys, and Hunza River running in-between. Make sure to bring a tent and all of your camping gear, as the conditions can be a bit harsh. And don't forget to pack plenty of food and water, because the area is quite remote.
Trek to the Majestic Ultar Glacier
Karimabad is a great place for trekking to the majestic Ultar glacier. At an elevation of 7,388m, the Ultar Sar looks formidable, the scenery is beautiful, and there are plenty of opportunities for hiking and camping along the way. The trek is strenuous so one has to be physically fit and healthy. One can also get to view the elegant Lady Finger Mountain aka Bublimo Ting locally that stands at 6000 m above sea level. Make sure to be properly prepared for the journey, and take a local guide along, as the terrain can be quite rough.
Make a Trip to Altit Fort
Altit Fort is a fort located in the Altit Village, in the Hunza Valley of Gilgit-Baltistan region, Pakistan. The fort is around 1100 years old and is one of the oldest forts in the region. It was originally built as a citadel to protect the inhabitants of the Altit village from invaders. Restored in 2011, the UNESCO awarded heritage site is a must-see tourist attraction. It is within a walking distance of half an hour from Karimabad.
An interesting fact about the site is that it was restored by women artisans.
Explore the picturesque Kha Basi and taste the scrumptious Hunza Cuisine at Kha Basi cafe. Do not forget to visit the Instagram spot there!
Discover the Best Sunset Spot at Duiker
If you're looking for the perfect spot to watch the sunset, be sure to check out Duiker (2,935 m). Just an hour's walk away from Baltit Town in the adjacent Altit village. The view is spectacular, and you'll be able to see the sun dip below the Rakaposhi (7788 m) and adjoining mountains. Make sure to bring a sweater and some snacks, as it can get quite cold in the evening. Hard Rock Hunza Resort and Eagle Nest Hotel are some of the best locations to enjoy succulent food and the sunset.
In short, Karimabad is one of the popular tourist places in Pakistan and there are plenty of things to do. Whether you're looking for the perfect spot to watch the sunset or hike into pastures, karimabad has it all. If camping isn't your thing, take some time out with family and friends in one of the many high-end restaurants or cafes that offer traditional food from Hunza Valley and around Pakistan as well as continental dishes. Arrange a musical program to indulge in local culture. If you're interested in a brief Hunza travel guide, read our authentic Hunza travel guide. You can also find luxury hotels in Karimabad in our article on luxury hotels in Hunza.
PakVoyager offers the best deals on Karimabad Hunza online hotel, tour, and car rental bookings. We have a local office in Hunza valley that is always available to assist you with anything you need while on your trip. Our hassle-free online booking system makes it easy for you to plan your perfect trip to Hunza valley. You can choose from a variety of Karimabad hotels, tours, and car rental options to create the perfect vacation for you. Book your Karimabad Hunza trip Now!